ASP Committee Annual Meeting Marks Accomplishments, Reiterates Resolve for Progress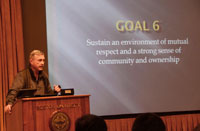 The Applied Strategic Planning (ASP) Committee Annual Meeting was held January 23, 2014, in the Metcalf Trustee Ballroom. Assistant Dean for Business Development Dr. Margaret Errante presided over the meeting, which included presentations by ASP Co-Chairs Drs. John Guarente and Celeste Kong.
The day began with presentations and discussions on: maximizing students' experience; employee feedback on learning and growth; and, enterprise risk management. Then, goal champions for goals 2–10 provided updates on progress and accomplishments to date. Dean Hutter provided an update on the status of Goal 1, the proposed new building, and reported that progress continues on a daily basis towards achieving our goal as discussions are underway as to deciding where the GSDM Clinical facility will be located.
The ASP comprises 10 goals, 48 objectives, and 260 integrated action plans (IAP). To date, 90% of the ASP has been completed. "I am very pleased with the progress we have made in implementing our ASP," said Dean Jeffrey W. Hutter. He continued, "Implementation has included efforts on every level of our School, in virtually every department and office and I cannot thank our faculty, staff, and students enough for their dedication and hard work." The ASP will be updated to reflect recent progress.