GSDM Celebrates Vietnamese New Year at Tet in Boston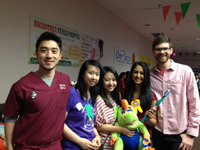 On Saturday, February 8, 2014, Boston University Henry M. Goldman School of Dental Medicine (GSDM) students volunteered at the annual Tet in Boston festival at Carson Place-Boston Teacher's Union in Dorchester. Around 1,700 people attended the event.
Tet in Boston is an annual Vietnamese New Year Festival organized by the Vietnamese-American Community of Massachusetts and the Intercollegiate Vietnamese Student Association. The Asian Dental Student Organization (ADSO) at GSDM participated in collaboration with students from the Tufts Asian Dental Association.
Jing Guo DMD 17, Isabelle Nguyen-Quoc DMD 17, Sonal Patel AS 15, and John Xu DMD 16 joined Oral Health Promotion Director Kathy Lituri this year. The volunteers offered oral health activities and distributed toothbrushes and toothpaste.
"Tet in Boston is always a fun and educational event," said Kathy Lituri. "It gives members of the Asian Dental Student Organization an opportunity to reconnect with their heritage and culture while promoting oral health." She continued, "They even become role models within the Vietnamese community, showing the younger generation what it takes to become a dental student and eventually a dental professional."
Photos are available on Facebook and Flickr.