Nathan Ng DMD 14 Published in Top Research Journal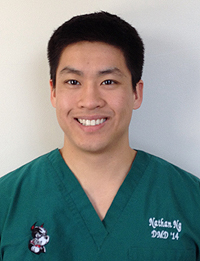 Nathan Ng DMD 14 is the lead author of a manuscript accepted in November 2013 by the Journal of Periodontology, one of the top peer-reviewed journals of its field. Ng began research for the paper "Coffee Consumption and Periodontal Disease in Men" during his APEX first-year research rotation with mentors Dr. Elizabeth Krall Kaye, Professor in the Department of Health Policy & Health Services Research, and Dr. Raul Garcia, Professor and Chair of the Department of Health Policy & Health Services Research. Ng received the ADA/DENTSPLY Award for his poster on the topic at GSDM Science Day 2012 and went on to represent the school at the 2012 ADA Annual Session in San Francisco.
Said Ng, "This is the first long-term study of its kind that has investigated the association between coffee consumption and periodontal disease in humans." Ng describes the research: "Using radiographic bone loss, probing depth, and bleeding on probing as indicators of periodontal status, we found that coffee consumption did not have an adverse effect on periodontal health, and instead, may have protective effects on periodontal health."
Ng said, "I'd like to thank Drs. Raul Garcia and Elizabeth Kaye for their excellent mentorship and support in conducting our research project and preparing our results for publication."
Professor in the Department of Molecular & Cell Biology and Associate Dean for Research Dr. Maria Kukuruzinska extended her congratulations to Ng on his achievement as well as to Drs. Kaye and Garcia on their great mentoring and training.
Dean Jeffrey W. Hutter said, "On behalf of the entire Henry M. Goldman School of Dental Medicine community, congratulations to Nathan on this outstanding achievement." He continued, "Thank you also to Drs. Garcia and Kaye for their support and mentoring of Nathan in his research and publication."