GSDM Volunteers Bring Holiday Cheer to Christmas in the City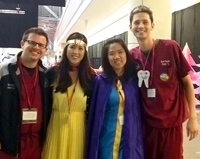 On December 22, 2013, members of the Boston University Henry M. Goldman School of Dental Medicine (GSDM) community volunteered at Christmas in the City (CITC). They joined thousands of others at the Boston Convention & Exhibition Center for this annual event for mothers and children living in Boston area homeless shelters. CITC is a lively party with a banquet, live entertainment, and a "Winter Wonderland" with games, rides, a petting zoo, and other activities for children. Each child receives a gift from Santa from their personal Christmas list.
"This is a huge and amazing event," said Kathy Lituri, "To know that we are contributing in some small way to make the Christmas season merrier for so many homeless children—while also promoting oral health—is an incredibly heartwarming feeling."
Oral Health Promotion Director Kathy Lituri and the GSDM volunteers offered dental screenings and interactive activities promoting oral health. Andrea Lam and Vanessa Thai (both DMD 16) appeared as Captain Cavity Fighter and Lieutenant Fluoride, respectively. They posed for photos with the children.
GSDM faculty and staff volunteers were: Clinical Instructors in the Department of Health Policy & Health Services Research Drs. Lina Benslimane and Gladys Carrasco, Director of School-Based Programs Dr. Corinna Culler, Director of Global Initiatives Kathy Held, and Program Administrator in the Department of Health Policy & Health Services Sheree Norquist.
The student volunteers were: Kaveh Baharvand AS 14, Erin Breen DMD 15, Margi Chan DMD 16, Arielle Curtis DMD 16, Tripp Egan DMD 14, Tina Giannacopoulos DMD 15, Matthew Green DMD 15, Grace Hannawi DMD 17, Wenhui Jiang AS 15, Danah Khajah DMD 17, Jaegak Kim DMD 17, Andrea Lam DMD 16, Luri Lee DMD 16, Matthew Mara DMD 16, Melissa Parsa DMD 15, Emily Pipilas (pre-dental), Shiqian Shen ORAL BIO 17, Divya Swarup AS 15, Gaurav Swarup AS 15, Vanessa Thai DMD 16, Wanpeng Xu AS 15, and Ryan Vaughn DMD 16.
Other volunteers included Lee Costello from CITC and Wanpeng Xu's wife, Ying Gue.
Photos are available on Facebook and Flickr.