Inspiring Good Health and Promoting Higher Education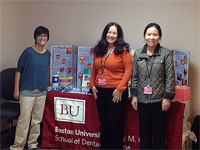 Success was achieved on two important fronts by volunteers from Boston University Henry M. Goldman School of Dental Medicine (GSDM) at the November 14, 2013, health fair at the Salter School in Malden, Massachusetts. They provided information and resources on general and oral health to the public and offered inspiration for young adults to seek higher education.
Oral Health Promotion Director Kathy Lituri along with Yanling Liu and Shivani Shirgavi, both AS 15, shared their oral health care expertise with students of the Salter School, which offers nine-month training for careers as professional medical assistants, health claims specialists, and massage therapists.
The GSDM volunteers gave a one-hour presentation on general and oral health to Salter School faculty, staff, and approximately 65 students. The presentation inspired questions and comments from the attendees, many of whom also expressed interest in learning more about careers in dental assisting and about becoming patients at the GSDM patient treatment center.
Lituri said, "It was a great opportunity to serve as a role model and encourage kids to do well in school and seek a higher education."