New York City Alums Reunite and Celebrate GSDM's 50th Anniversary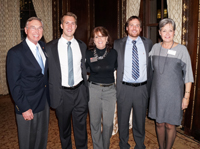 Dean and Mrs. Jeffrey W. Hutter hosted a Boston University Henry M. Goldman School of Dental Medicine (GSDM) alumni reception and 50th Anniversary celebration at the New York Palace on Wednesday, November 6, 2013, attended by 38 alumni, faculty, staff, and friends.
Dean  Hutter recognized and extended appreciation to the following for their presence at the reception: Madeline Apfel CAS 75, DMD 80, Co-chair of the New York Study Club; Mitch Sabbagh DMD 87, President of the GSDM Alumni Association and Co-chair of the New York Study Club;  Tina Valades DMD 84, Immediate Past President of the Alumni Association, with her husband, Ralph; and Dr. Tom Kilgore, Chair of the Planning Committee for the GSDM 50th Anniversary Celebration, and his wife Colleen.  Although they were not able to attend because of the unexpected passing of a friend, Dean Hutter also recognized Jonathan Levine DMD 81, past Chair of the Dean's Advisory Board, with his wife, Stacey.
"Each of you: students, faculty, staff, alumni, distinguished guests, and friends are an integral part of our community and it means a great deal to me, as Dean, to see our School gather to celebrate our past and gather our momentum as we enter the future," said Dean Hutter.
Dean Hutter recounted the 50 years of the School's history, his vision for a new facility, the ongoing fundraising campaign "Choose to be Great", and progress the School has made towards the completion of the goals of the GSDM Applied Strategic Plan.
Dr. Kilgore also addressed the gathering: "The NYC alumni club was the first of our alumni clubs and it is great to see how active it has been over the years and how dedicated your leadership has been." Dr. Kilgore continued, "It is also wonderful to see so many of our recent graduates becoming active and assuming leadership roles in the club. I hope that your dedication to the alumni club and to GSDM continues."
Photos are available on Facebook and Flickr.