Mohamed Bayoumy is Outstanding in Memphis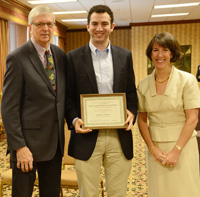 Mohamed Bayoumy DMD 16 took home one of just 9 awards at the 19th Hinman Student Research Symposium held at the Peabody Hotel in Memphis, Tennessee October 25–27, 2013. His award for outstanding clinical research resulted from his research project at the National Institute for Dental and Craniofacial Research (NIDCR) this summer. Dean of the University of Tennessee College of Dentistry, Dr. Timothy Hottel; Senior Executive Associate Dean for Research, Dr. Franklin Garcia-Godoy; and President of the Hinman Dental Society, Dr. Jane Puskas presented the awards.
Additional awards were for outstanding basic science research (4), outstanding clinical research (3), and an award from the National Students Research Group of the American Association for Dental Research.
This was Bayoumy's first Hinman Symposium. "I was impressed to see the role research had in the dental curricula of schools across both the US and Canada," he said. "The conference further entrenched my belief that, to further progress the field of dentistry, dental schools must inspire their students' scientific curiosity toward direct clinical applications. I hope to be able to incorporate research both into my training and throughout my practicing career."
Bayoumy's project examined the effect of inactivating the genes for the transcription factors Epiprofin and Tbx1 on tooth number and structure in mice. NIDCR Chief of the Molecular Biology Section Dr. Yoshiko Yamada directed the project. You can learn more about the NIDCR Summer Dental Student Award that sent Bayoumy to Bethesda, Maryland, for this eight-week research project in the August 20, 2013, Outlook This Week article.
"I applaud Mohamed's interest in contributing to the future of dentistry through research," said Dean Jeffrey W. Hutter. "We at the Goldman School of Dental Medicine look forward to his continued success in research both as a student and future professional."
This year, 104 students from 47 dental schools in 29 states, the District of Columbia, and 4 Canadian provinces presented oral and poster presentations of research projects. Acting as Symposium hosts were 20 dental students from the University of Tennessee. The Hinman Symposium is sponsored annually by the University of Tennessee College of Dentistry and the Hinman Dental Society.