Millers Host Intimate Reception in Boca Home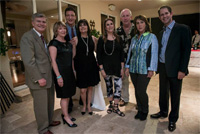 Robert J. Miller DMD 84, PERIO 86 and his wife Sharon hosted an alumni reception for Dean Jeffrey & Mrs. Kathleen Hutter and 30 guests at their home in Boca Raton, Florida, on November 12, 2013, as part of the School's 50th Anniversary Celebration.
Dean's Advisory Board (DAB) members Ernesto Muller PERIO 61 and Madalyn Mann and her husband Dr. Robert Charles Goldszer MBA 99 were in attendance.
"The highlight for me was seeing how happy and proud the alumni were to be a part of Boston University Henry M. Goldman School of Dental Medicine (GSDM)," said Mann. "I most enjoyed having this type of event in an alum's home; it's very warm and welcoming. I hope to see more alumni receptions in the South Florida area. There is a wonderful group of BU grads ready to bring new energy to our region!"
Madi and Bob were specifically recognized by Dean Hutter as he thanked guests aloud for attending. He also recognized hosts Bob and Sharon Miller, DAB member Ernesto Muller PERIO 61, Assistant Dean for Development Kevin Holland, and his wife Kathy Hutter.
Dean Hutter discussed past, present, and future accomplishments at GSDM, including:
the implementation of the Applied Strategic Plan
the creation of a Group Practice Model
the role of digital dentistry
our successful accreditation
the status of the new GSDM building, and
the Campaign for Boston University: Choose to be Great, in which alumni will play an important role
Photos are available on Facebook and Flickr.