Honduras Externship Proves Challenging and Humbling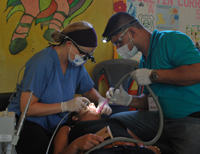 When Heather Brown DMD 14 traveled to San Pedro Sula, Honduras, on a Medical, Eye, and Dental International Care Organization (MEDICO) sponsored externship September 21–28, 2013, she was astonished by how quickly she and her fellow medical professionals bonded. "There was a lot of camaraderie, right from the beginning," said Brown. That feeling of unity lasted throughout the externship, with everyone committed to working together to make an impact on the community.
Brown was the only student among a group of dentists and doctors. Marian Flowers and Lynn Purcell from MEDICO lead the group to San Pedro Sula for what was the organization's first trip to that site. Another Boston University Henry M. Goldman School of Dental Medicine (GSDM) student was originally slated to join Brown on the externship, but had to bow out due to a medical issue at the last minute. As a result, Brown's attendence and participation were even more essential as the group decreased by one dental student.
The group stayed with several local residents in their homes in San Pedro Sula. Brown mentioned the living situation was convenient because they were located very close the dental site and it also gave them an opportunity to live among the locals and learn more about their culture. She recalled how the family she stayed with rose at 3 a.m. to start cooking for the day in order to feed themselves and their guests. Brown also enjoyed spending evenings in the community listening to the evening prayers, which often included singing.
Brown and her colleagues spent the days treating patients. On average, they would spend 12 hours in extreme heat and humidity doing extractions, and composite and amalgam restorations. She noted that multiple anterior composites were often necessary. The community lent a hand in several ways. The local dentists arrived to do cleanings so the visiting dental professionals could focus on more complicated procedures. Brown and the others were grateful for the help, and were able to focus on treating as many people as possible. She found interesting dental distinctions within the San Pedro Sula community she didn't expect. "The density of bone was different," Brown said. "I noticed that right away. I also saw that [tooth numbers] 18 and 30 were frequently an issue and needed to be extracted."
Brown had performed a number of extractions when she was faced with an especially heartbreaking challenge. An adorable four-year-old girl smiled at her, and she was overwhelmed with a wave of sadness. "Ten little teeth, and seven of them needed to be extracted," said Brown. Though she was unable to extract them all, she was glad she could offer some treatment to a child who was in dire need of dental care.
Though the days were long and exhausting, Brown and her colleagues found the trip exhilarating. She treated around 200 patients total. "When people are this appreciative, you forget how long the hours are," said Brown.
The children were thrilled just to receive free toothbrushes, gum, and stickers. One member of the group brought 250 books to donate to the local library. Everyone on the trip took a stack of books and packed them in their suitcases. Brown noticed the culture was a very affectionate one, where she was often hugged as a thank you for dental treatments and gifts.
Brown found the externship overall extremely rewarding, and would be interested in going abroad again. "When there's a place where there's so much need and we can treat these patients, we must volunteer our time to meet that need," she said.
Dean Jeffrey W. Hutter said, "We at GSDM are so proud of Heather and her participation in the Honduras externship. International elective externships provide valuable hands-on training that is a vital part of dental education at the Henry M. Goldman School of Dental Medicine."
Photos are available on Facebook and Flickr.