An Unforgettable Endodontic Alumni Fall Meeting in Québec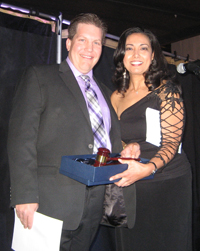 Endodontic alumni of Boston University Henry M. Goldman School of Dental Medicine (GSDM), accompanied by family and friends, gathered in Québec City, for their annual fall meeting October 2–5, 2013. The approximately 80 attendees enjoyed four days and evenings packed with scientific and social events.
At a breakfast meeting, Dr. Sami Chogle greeted the BU Endodontic Alumni Fall Meeting for the first time as Director of the Advanced Specialty Education Program in Endodontics. Dr. Chogle presented his plan for the program. He outlined the events of the past year, starting from the department's successful results from the Commission on Dental Accreditation Site Visit despite his short tenure at the School at the time. Dr. Chogle also shared positive changes in the treatment centers, including new microscopes, new volunteers, an updated curriculum, and clinical assessments. He closed with his vision to rekindle the program's past glory, to re-establish a top-notch program, not only in academic research and clinical training but also in terms of its rich heritage and tradition.
Dr. Chogle proposed a future meeting for alumni in Boston—a "return to roots"—to recur every five years. He welcomed the alumni with an open invitation to visit the School and engage with and convey their experience to residents, as many have already done in the past year. Dr. Chogle received a number of rounds of applause during his address to the alumni.
On Thursday and Saturday, alumni attended lectures, which included a presentation by Denis Robert ENDO 81, MSD, in which he proposed answers to questions on restorative materials based on current literature; a lecture by Roderick W. Tataryn, DDS, MSD, "The Endo-Antral Connection—Understanding the role of endodontic infections in maxillary sinus disease;" and a presentation by Manon Paquette, DMD, "Radiological review of oral pathology: How CBCT can help in the diagnosis." Resident Manal Saadoun MSD 14 presented a summary of all of the post-doctoral research projects in the endodontics department. Christian Morasse ENDO 14 presented a variety of cases treated at the GSDM treatment center.
While the alumni attended lectures, family and friends went on a variety of leisure outings, which included the Québec Civilisation Museum and a fashion show of Québec designers followed by shopping.
On Friday, both alumni and guests bundled up for an unforgettable whale watching trip at the convergence of the St. Lawrence River and the Saguenay Fjord, Tadoussac and Baie-Ste-Catherine, said to be the most beautiful whale watching site in the world.
A gala dinner at Espace 400ieme Bell center (Space Bell) provided a grand closing to the Fall Meeting program. Site chair for the 2013 meeting, Normand Aubre ENDO 87, opened the evening with remarks. Outgoing Endodontic Alumni Association President Iman Labib ENDO 01 addressed the gathering and introduced the incoming Endodontic Alumni Association President, Marshal Michaelian ENDO 79.
Dr. Michaelian presented Dr. Labib with a plaque from the GSDM Endodontic Alumni Association for her outstanding contribution as Alumni Association president. Dr. Normand Aubre received a certificate of appreciation for his work as site chair for the meeting.
Both the Drs. Labib and Michaelian shared with Dr. Chogle positive feedback from the alumni at the Fall Meeting. Dr. Chogle said, "I look forward to sharing another meeting with the alumni next year in Idaho."
Photos are available on Facebook and Flickr.