Tradition & Excellence a Theme at Welcome Dinner for New Endodontic Residents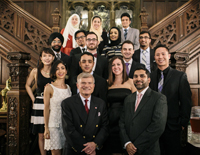 New Boston University Henry M. Goldman School of Dental Medicine (GSDM) endodontic residents were recognized at a welcome dinner hosted by Director of the Advanced Specialty Education Program in Endodontics Dr. Sami Chogle and the Endodontic Alumni Association at the BU Castle on September 27, 2013.
Dr. Chogle welcomed the approximately 85 guests, introducing outgoing Endodontic Alumni Association President Dr. Iman Labib, who said a few words of acknowledgment. Dr. Labib then introduced the incoming Endodontic Alumni Association President, Dr. Marshal Michaelian.
Dr. Michaelian said, "The Endodontics program here is rich in the tradition of excellence and holds standards that are above all others. It is a program that will offer you a sense of belonging and bring you closer together. And it will give you the ability to face the future because of the knowledge gained from the past."
Dean Jeffrey W. Hutter then warmly welcomed the new endodontic residents into the GSDM family. Dean Hutter reiterated the tradition of excellence in the Program and its premier position among Endodontics programs.
Dr. Chogle also spoke on the theme of tradition. He then introduced each of the incoming residents with a brief description of their background.
The Endodontics CAGS Class of 2015: Mohammed Alshahrani, Paritosh Amburle, Michael Crisanti, Sahar Dadvand, Haytham Jaha, Ramitpal Singh Khurana, Andrew Miller, Jimmy Pham,  Hsiao-Ying Yang, and Lauren Zollett.
The MSD Class of 2016 residents are Munirah Almershed and Nedda Hifeda. The DScD Class of 2018 residents are Abdulwahed Abdulaziz, Arwa Alnoury, and Samah Bukhari.
Photos are available on Facebook and Flickr.