GSDM Students Return to New Pentecostal Church Health Fair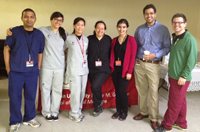 On Saturday, September 28, 2013, students and faculty from the Boston University Henry M. Goldman School of Dental Medicine (GSDM) participated in the Health Fair at the New Pentecostal Church in Mattapan. The volunteer effort was organized by the Office of Global and Population Health, Ingy Alhelawe DMD 15, and Neelam Shah DMD 14. The faculty sponsors were Oral Health Promotion Director Kathy Lituri and Clinical Instructor in the Department of Health Policy & Health Services Research Dr. Lina Benslimane.
The population at New Pentecostal Church is largely Haitian Creole and provided a unique opportunity for volunteers to learn about the oral health needs of the Haitian community in Boston.
GSDM volunteers offered a wide range of oral health promotion, education, age appropriate activities, screenings, and referrals. They screened nearly 50 people.
"I was extremely impressed with the level of care the students offered at the Fair," said Kathy Lituri. "They seemed to understand innately the importance of participating in these types of community events and how to interact with people so they felt comfortable and well cared for."
The volunteers included: Mihika Ahluwalia DMD 16, McAllister Castelaz DMD 17, Jasmine Chopra AS 15, Stephanie Leung DMD 15, Matt Mara DMD 16, Ramandeep Samra DMD 15, Siavash Golaby Sanajany DMD 15, Samita Sandhu DMD 15, Ali Basha Shaik AS 15, and Nikhil Whig AS 15.
Photos from the event are available on Facebook and Flickr.