Mohamed Bayoumy DMD 16 Cultivates Interest in Research as NIDCR Summer Dental Student Award Recipient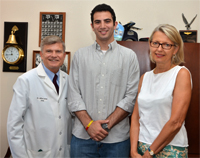 On August 12, 2013, Dean Jeffrey W. Hutter and Associate Dean for Research Maria Kukuruzinska met with Mohamed Bayoumy DMD 16 to learn about his eight-week research experience as National Institute of Dental and Craniofacial Research (NIDCR) Summer Dental Student Award recipient. They also renewed their congratulations to Bayoumy for earning the award, which he received in April.
The NIDCR Summer Dental Student Award offers talented dental students the opportunity to gain hands-on research training and exposure to cutting edge oral health research. The award is designed to give future oral health professionals a preview of a career in research.
Bayoumy traveled to Bethesda, Maryland, to conduct research at the National Institutes of Health with seven other outstanding students. He was assigned a mentor specializing in molecular biology of tooth development, which is an area of research which interests him. Dr. Yoshi Yamada, Bayoumy's mentor, was the Principal Investigator. Bayoumy worked directly with Dr. Kiyo Sakai.
During his internship, which took place May 20–July 12, Bayoumy carried out experimental procedures such as Western Blots, immunofluorescence, prepared frozen sections, used a confocal microscope for imaging, and embryonic tooth bud extractions. He also took part in section meetings, presenting and discussing collected data, discussing lab-mates' data, as well as literature covering topics of interest.
Bayoumy described enthusiastically to Dean Hutter and Dr. Kukuruzinska, at their meeting, his use of the Institute's confocal microscope. This microscope is a state-of-the-art scientific instrument that produces exceptionally high resolution images, generating more precise results. Bayoumy felt very fortunate to be allowed to use the microscope to gather data during his time at NIDCR.
At the end of the training period, Bayoumy presented his findings to his colleagues and instructors at the program. He also presented his research to the students and faculty at Boston University Henry M. Goldman School of Dental Medicine (GSDM) during the Applied Professional Experience (APEX) research program presentations on August 9. His experience at NIDCR, combined with three weeks at a clinical site in Albany, New York, fulfilled his APEX requirement.
Bayoumy's APEX presentation, which was the culmination of his research with Dr. Kiyoshi Sakai and Dr. Yoshihiko Yamada at the NIDCR internship, was titled "The Correlative Role of Epiprofin and Tbx1in Tooth Proliferation and Differentiation."
A summary of Bayoumy's presentation: In tooth morphogenesis, the dental epithelium and mesenchyme interact reciprocally for growth and differentiation. This interaction is critical in the formation of the proper number and shapes of teeth. Epiprofin (Epfn) and Tbx1 have been previously identified as transcription factors involved in the process of tooth development. To identify the role each transcription factor has in tooth development, Epfn and Tbx1 wild-type, heterozygous, and knockout mice were studied. Epfn -/- mice developed an excess number of teeth, enamel deficiencies, dentin defects. Tbx1 -/- mice exhibited a reduced number of teeth as well as enamel defects. The altered signaling events may underlie critical functions carried out by Epfn and Tbx1 affecting the differentiation, proliferation and maturation of ameloblasts and odontoblasts during tooth development. We aimed to study Epfn and Tbx1 in the incisors of developing mice in order to better elucidate their functionality as well as identify any possible interactions between the two transcription factors.
Bayoumy looks forward to presenting his work at the Hinman Student Research Symposium in Memphis, Tennessee, this October.
Regarding his experience as the NIDCR Summer Dental Student Award recipient, Bayoumy said:
I think this opportunity further entrenched the belief that to further progress the field of dental medicine, future dentists must approach their career with a lifelong desire to learn. I'm personally looking forward to establishing an integrated model between clinical practice and constantly researching methods to optimize care to the population.
Bayoumy continued:
I believe that research allows for a certain element of critical thinking and troubleshooting that can be applied to patient care. By honing that skill, I believe I will be better able to troubleshoot issues that may arise in patient care quickly and efficiently.
At the conclusion of the debriefing, Dean Hutter conveyed to Bayoumy that he was proud of his work and that the experience was "a success all around."
Dean Hutter said, "Mohamed's research work as an NIDCR Student Award recipient is a preview of his opportunity to advance the mission of the Henry M. Goldman School of Dental Medicine to shape the future of the profession through scholarship, creating and disseminating new knowledge, developing and using innovative technologies and educational methodologies, and by promoting critical thinking and lifelong learning."