DMD 2015 and AS 2014 Students Celebrate Reaching Half-Way Point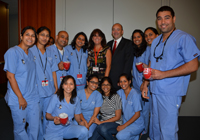 Boston University Henry M. Goldman School of Dental Medicine's Alumni Association sponsored a "Half-Way There" breakfast for DMD 15 and AS 14 students on Tuesday, July 2, 2013, at 670 Albany Street.
After finishing their exams, the students arrived to chat and enjoy coffee, juices, bagels, and pastries. Each student also received a "half-way there" t-shirt and a red GSDM coffee mug. Dean Jeffrey W. Hutter, Immediate Past President of the Alumni Association Board Dr. Tina Valades DMD 84, Assistant Dean of Students Dr. Joseph Calabrese DMD 91, AEGD 92, and Director of Alumni Relations & Annual Giving Stacey McNamee, mingled with the students.
"Congratulations on reaching the half-way mark in your dental education," said Dean Hutter. "Your hard work and achievements at the Henry M. Goldman School of Dental Medicine thus far will prove advantageous as you continue your education here."
Photos are available on Facebook and Flickr.