Staff Forum Meetings Yield Community-building Activities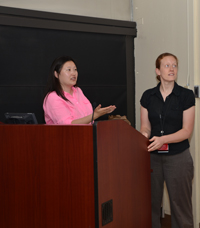 The Boston University Henry M. Goldman School of Dental Medicine (GSDM) Staff Forum held quarterly meetings June 26–28, 2013. On June 26, supervisory staff met separately in accordance with the change in Staff Forum by-laws voted on by staff in December. On June 27, 930 Commonwealth Avenue staff met and on June 28, non-supervisory staff met over two sessions at 100 East Newton Street.
Staff Forum board members Janet Huh and Barbara Pyke led the non-supervisory meetings. They updated staff on summer activities, including a lunchtime walking group and bowling outings. Huh announced the staff's first Bowling Champion, Andrew Butler, and welcomed the staff to join in the attempt to dethrone him. Staff activities in the works for fall include informal lunch-and-learns and monthly social breakfasts for faculty and staff. Huh and Pyke also announced upcoming Staff Forum elections.
At 930 Commonwealth Avenue meeting, staff discussed a potential group community service project and a study club for staff. At the 100 East Newton Street meetings, discussion focused around social and community-building activities. Staff talked about a potential GSDM fundraising project, a book club, and a knitting group.
Said Pyke, "We were very pleased at the positive dialogue during these Staff Forum meetings. We received some great suggestions that we will work on implementing over the summer. Elections for the open Staff Forum positions will be held in August and we encourage anyone interested in running to contact us at our new email address, gsdmsf@bu.edu."