Award Ceremony and Updates at GSDM Faculty and Staff Meeting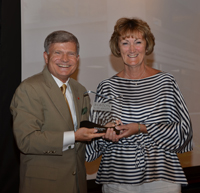 On Wednesday, June 26, 2013, the Boston University Henry M. Goldman School of Dental Medicine (GSDM) held a faculty and staff meeting that included a Henry M. Goldman Award for Distinguished Service award ceremony and many important updates regarding the future of GSDM.
Dean Jeffrey W. Hutter began the meeting by welcoming the audience, recognizing those individuals who had joined the staff and faculty since the December 17, 2012 meeting, and acknowledging the retirement of Dr. Douglas Riis after his 30 years of distinguished service to GSDM.  In addition, he congratulated Dr. Margaret Errante who was promoted from Clinical Assistant Professor to Clinical Associate Professor on March 12, 2013, Dr. Michelle Henshaw, who was promoted from Assistant Dean for Community Partnerships & Extramural Affairs to Associate Dean for Global & Population Health on February 1, 2013;  and Ms. Stacey McNamee whose title was changed from Director of Alumni Relations to Director of Alumni Relations & Annual Giving.
Dean Hutter then presented the Henry M. Goldman Award for Distinguished Service to Barbara McKenna, Clinic & Administrative Manager in the Department of Endodontics.
Barbara was honored for her 17 years of outstanding work at GSDM. In her numerous nomination forms, she was described as "dedicated, positive, committed, and hardworking." Dean Hutter presented her the award and offered his congratulations.
"I have had the pleasure of working closely with Barbara in the Department of Endodontics prior to becoming Dean and I have firsthand knowledge of her skill, her poise, and her devotion to our School," said Dean Hutter. He continued, "I know that I speak for the entire faculty and staff when I congratulate Barbara on receiving the Henry M. Goldman Award for Distinguished Service."
The ceremony concluded with Dean Hutter and Barbara posing for a photograph with her award.
Associate Dean for Academic Affairs Dr. Cataldo Leone began the presentations portion of the meeting with the Faculty Council Report. Dr. Leone reviewed academic program proposals, policy changes/additions, guest discussions with Boston University (BU) administration (including President Robert A. Brown), and other updates relevant to the GSDM community.
Janet Huh, Audio/Visual Technician and Staff Forum representative discussed Staff Forum updates. In addition to nominating  Senior Administrative Secretary in the Department of General Dentistry Molly Washburn as Goal Six Champion, the Staff Forum has revised its by-laws, and hosted social events. In the future, Janet and the other Forum representatives hope to host more staff gatherings, hold elections, and implement a rewards and recognition program. She welcomed ideas and suggestions from all staff.
Assistant Dean for Admissions Catherine Sarkis presented statistical data on the incoming students for the 2013–2014 academic year. She gave an overview of the DMD, AS, and Post-doctoral classes.
Dr. John Guarente, Associate Dean for Clinical Affairs (as of July 1), and Gurjinder Gill, Senior Project Manager, reviewed the status of the GSDM Applied Strategic Plan. Dr. Guarente described the ongoing efforts in specific areas such as Goal 3 (Research), Goal 5 (Patient Care), Goal 6 (Environment), Goal 7 (Finances), Goal 8 (Faculty & Staff Development), and Goal 10 (Student Recruitment). Gill added some quantitative information relevant to the qualitative report given by Dr. Guarente.
Executive Director of Finance & Operations Tim McDonough discussed GSDM space programming and master planning. He detailed the updates made in 2012 and 2013, including the new oral surgery suite and sterilization of the 7th floor. Tim was then joined by Andy Burke, Associate Director for Facilities & Operations, to present information regarding upcoming GSDM facility projects. They highlighted several future changes such as the relocation of several departments at the School, renovation to Group Practice Rooms, and upgrades to the Simulated Learning Center (SLC).
Dr. David Russell, Director of the Group Practice Experience and Team Leadership, gave an overview of the GSDM Group Practice Model. The structure of the model includes 9 group practices, 33 students, 1 practice leader, 1 patient coordinator, and general supervising faculty members. He unveiled the names of the first nine group practice leaders: Drs. David Gabelman, Francis Harrington, Eleni Kanasi, Ryota Kikuchi, Michael McQueen, Steven Roberts, Sheila Rodriguez-Vamvas, Ira Weinberg, and Deborah Whitman.
Dean Hutter and Tim McDonough presented the specifics of GSDM's re-organization efforts, which included department, office, faculty, and staff changes as of July 1, 2013. Dean Hutter recapped the main points of the ongoing search for a new facility for GSDM, and then revealed new updates. After reviewing several possibilities over a period of time with stakeholders at GSDM, BU, and the architecture firm SmithGroup, discussions have begun with Boston Medical Center about the potential purchase of the Newton Pavilion Building at 88 East Newton Street. Dean Hutter explained that the negotiations are still very much in the early stage, and the final location for GSDM's new facility is  still being deliberated.
Dean Hutter concluded the meeting by thanking the faculty and staff and wishing everyone a "safe, happy and enjoyable summer" and inviting everyone to attend the Ice Cream Social that Mrs. Hutter and he will host on Tuesday, July 16, 2013 from 11:00am-1:30pm on the patio adjacent to the 100 E. Newton Street Building as a way of recognizing all the hard work and dedication of the faculty and staff this past academic year.