PERIO and PROS Alumni Gather for "Quintessence" Reception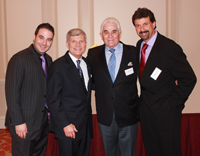 On Wednesday, June 5, 2013, the Boston University Henry M. Goldman School of Dental Medicine (GSDM) held an alumni reception hosted by Dean Jeffrey W. Hutter and Chair of Periodontology & Oral Biology Dr. Serge Dibart on the eve of the International Symposium on Periodontics & Restorative Dentistry, "Quintessence." Around 80 guests gathered for a cocktail reception in the Metcalf Trustee Ballroom that evening.
"The evening reception was very well attended by GSDM alumni from the U.S. and abroad," said Dr. Dibart. "A considerable contingent from Italy was present."
Dean Jeffrey W. Hutter welcomed the guests and discussed the Boston University One Billion Dollar Campaign, Dr. Sudha Chinta ENDO 09 being selected as the Campaign Chair for GSDM, the status of GSDM's Applied Strategic Plan, a review of upcoming alumni events around the globe, and then presented the video commemorating GSDM's 50th Anniversary.
"It is truly an honor and a privilege for me to serve as the Dean of our Henry M. Goldman School of Dental Medicine, and my wife Kathleen and I along with Kevin Holland, our Assistant Dean for Development & Alumni Relations; Kimberley Branca, our Director of Development; and Stacey McNamee, our Director of Alumni Relations & Annual Giving, look forward to working with each and every one of you as we go forward in our Fundraising Campaign," said Dean Hutter. He continued, "Together we can realize our vision for the Boston University Henry M. Goldman School of Dental Medicine to be the premier Center of Excellence in Oral Health Education, Research, and Patient Care in this nation."
Photos are available on Facebook and Flickr.