Drs. Schnell and Oberhaus Awarded on McCahan Education Day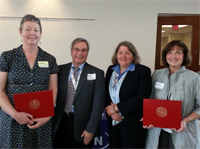 The Boston University School of Medicine (MED) Medical Education Committee and Dean Karen Antman hosted the eighth annual John McCahan Medical Campus Education Day on May 22, 2013, in the Hiebert Lounge. This event showcases educational innovation and scholarship on the Boston University Medical Campus in honor of former MED Associate Dean of Academic Affairs Dr. John McCahan.
Two faculty members received the Boston University Henry M. Goldman Award for Innovation in Education on this day: Boston University Henry M. Goldman School of Dental Medicine (GSDM) Clinical Professor of General Dentistry Dr. Ronni Schnell and MED Assistant Professor of Microbiology Dr. Stephanie Oberhaus. This award goes to the faculty member who best exemplifies the characteristics that make our students excited about learning. This faculty member, through the use of technology or alternative modalities of teaching and assessment, has been able to inspire and motivate his/her students to achieve competency in their subject matter while enhancing student learning.
GSDM Chair of General Dentistry Dr. Judith Jones and Associate Dean for Academic Affairs Dr. Cataldo Leone presented the awards. Dr. Leone also participated on a panel of BUMC academic deans. Both offered their thoughts on the GSDM Award winners.
Dr. Jones said:
Dr. Schnell updates her classes every year using the latest technology. She was one of the first to implement apresso, has integrated Evidence-based Dentistry (EBD) into her didactic courses, and develops excellent scoring rubrics for all her student evaluations in both the clinical and preclinical settings. She led the charge on integration of the electronic dental record into the School. We are fortunate to have this outstanding teacher in our Department.
Dr. Leone said:
Dr. Oberhaus has been at the forefront of educational innovation. In her teaching, she incorporates strategies for student engagement and active learning. She was one of the first to use audience response technology in GSDM classes, and has a prominent role in the Integrated Problems Sessions that run throughout the curriculum. Stephanie has received several awards for her teaching. She also is a consultant for the Commission on Dental Accreditation. The School of Dental Medicine is enriched by such a dedicated faculty member.
Associate Chair of General Dentistry Dr. Celeste Kong and Clinical Associate Professor Dr. Andrea Maalouf again represented GSDM on the McCahan Day planning committee.
Several GSDM faculty members submitted abstracts:
Drs. Alexander Bendayan and Celeste Kong, "Use of Smartphone/Tablet/Laptop Friendly Audience Response System in the Classroom"
Drs. Neal Fleisher, Meg Loadholt, Carl Mcmanama, and Ana Zea, "Enhancing Clinical Observation Through the Arts"
Dr. Steve Karpas, "An Innovative Strategy for Interactive Learning about a Challenging Syndrome"
Drs. Laura Kaufman and Paula K. Friedman and Emily Abrams and Annetty Soto, "The Educational Impact of Providing Dental Care to the Oldest-Old: A Case Report"
Swathi Uppu AS 14 and Tarangini Suggala AS 14, "The Simroid"
GSDM faculty receiving Medical Campus Teaching and Service Awards included: Drs. Mark Ferriero, Cataldo Leone, Bing Liu, and Daniel Moran.
Undergraduate Education Director at the University of Calgary Dr. David Keegan gave the keynote presentation on how to develop "strategic capacity" within educational teams: "How to get your team ready to pounce on opportunities and handle unexpected challenges!" Strategic capacity seeks to use resources in the most efficient way possible.
Photos are available on Facebook and Flickr. More information is available on the McCahan Day website.