Dr. Erdjan Salih Published in the Journal of Proteomics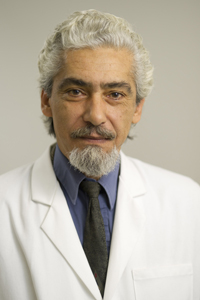 Dr. Erdjan Salih, Associate Professor in the Department of Periodontology & Oral Biology, was recently published in the Journal of Proteomics. His article, "Topographical distribution of phosphorylation sites of phosvitins by mass spectrometry" was published online on Wednesday, March 6, 2013, and featured in the printed journal on Monday, May 27, 2013. Drs. Drew Czernick ORAL BIO & PERIO 14 and Jess Liu ORAL BIO & PERIO 14 aided Dr. Salih in his research.
For the past 50 years the classically known egg yolk phosvitin was assumed to be a single phosphoprotein derived from vitellogenin gene I. Drs. Salih, Czernick, and Liu have now defined the expression of a second phosvitin derived from vitellogenin II gene. They proved the "hypothetical protein" of vitellogenin II gene is not hypothetical at all, but a fully expressed protein and has always been present in all of the so-called phosvitin samples studied.
"Our discovery is a landmark study which is a testament to how one could utilize knowledge of advanced classical protein chemistry and enzymology in combination with mass spectrometry to establish what has not been possible for the past 50 years," said Dr. Salih. He continued, "The study provides major opportunities to pursue biological studies since these phosphoproteins have unique physico-chemical properties that are reminiscent of ascorbate (vitamin C), but with additional yet undiscovered functions that may pre-date functions of vitamin C in iron metabolism, connective tissue formation, and immunity."
Dr. Salih commended Drs. Czernick and Liu for their contributions. "These two master students in one year have achieved what many DSc and PhD students could not in 3 to 5 years."
A second paper, following up on the implications of the detailed and intricate novel biological activity and functions of phosvitins and its implications to evolution, contemporary medicine, and dentistry will be published in the Journal of Developmental Biology later this year.