Annual Blackstone Field Trip: Inspiring Dental Careers & Good Health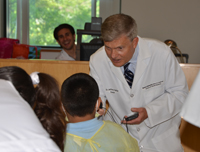 On Thursday, May 30, 2013, 89 third-graders visited the Boston University Henry M. Goldman School of Dental Medicine (GSDM) for the 14th Annual Blackstone School field trip.
Oral Health Promotion Director Kathy Lituri, who plays a key role in organizing the trip each year said, "This day is a lot of fun and a great way for the dental students to inspire a young child to pursue a higher education and a maybe even a career in dentistry."
The elementary students spent the first part of the morning in a 100 E. Newton Street classroom participating in lessons and activities. The children were given name tags that divided them into groups named after tooth types: canines, incisors, molars, and premolars.
Presenters talked about why healthy teeth are important and instructed the children on how to maintain good oral health by eating healthy foods, keeping their teeth clean, using mouth guards during physical activities, and by visiting the dentist regularly. Program Administrator Sheree Norquist presented a lesson on healthy eating. Following a break for a healthy snack, the children participated in a session of "Ask a Dental Student."
The third-graders then took a trip to the Simulation Learning Center (SLC) to "play dentist" and learn more about oral health care and its associated professions. In a game of "dress-up," the children were helped into protective gowns, masks, and (later) gloves. The educational activities included a hand-washing exercise performed by muddying two colors of glitter in a handshake; creating a thumb impression; and a demonstration in which the children brushed soda-soaked potato chips first from a plain walnut and then a sealant-coated walnut, comparing the results.
Captain Cavity Fighter was also on hand, caped and masked and prepared for oral health-preserving action.
Dean Jeffrey W. Hutter paid the children a visit at the SLC. Explaining first that he was like the principal at their school, he answered questions from the young students. One child asked Dean Hutter, "Is your job fun?" He replied, "Of course it is. I'm here with you."
The field trip concluded on Talbot Green with a pizza lunch in the sunshine.
Student volunteers at the event included: Priya Bal DMD 15, John Costello DMD 16, Kayla Cuddy DMD 16, Hamid Fakhri AS 14, Matthew Green DMD 15, Greg Hein DMD 14, Alan Jue DMD 14, Zaina Kalthoum DPH 15, Clare Yeonju Kim (Pre-dental), Antonio Maceda-Johnson DMD 15, Keely Matheson DMD 15, Mary McClintock DMD 14, Amrita Patel DMD 15, Andrew Pham DMD 15, Kenia Rodriguez DMD 14, Sirisha Rao DMD 14, Rajkamal Sohi AS 14, Vanessa Thai DMD 16, Wyatt Traina DMD 14, and Karina Vergara DMD 14.
Faculty volunteers included: Cindy Cadoret, Gladys Carrasco, Kathy Lituri, Meg Loadholt, Ana Keohane, Scott Thayer, and Ana Zea. Staff volunteers included: Joyce Ganas, Brian Mahoney, Sara Menegonie, and Sheree Norquist.
Photos from the trip are available on Facebook and Flickr.