Philly Welcomes Ortho Alumni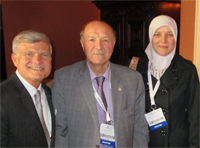 On May 5, 2013, Dean & Mrs. Jeffrey W. Hutter along with Anthony A. Gianelly Professor and Chair of Orthodontics & Dentofacial Orthopedics Dr. Leslie Will and the Department of Orthodontics & Dentofacial Orthopedics hosted an alumni reception and 50th Anniversary celebration at the Ritz-Carlton Philadelphia during the American Association of Orthodontics annual meeting.
In attendance with the hosts were: Director of the Post-doctoral Orthodontic Patient Treatment Center Dr. Mohamed Masoud, Assistant Dean for Development & Alumni Relations Kevin Holland, and many GSDM orthodontic residents, faculty, and alumni. Drs. Fred Sacramone and Negaar Sagafi spoke on behalf of the Orthodontic Alumni Association.
Dean Hutter briefed the guests on events happening at Boston University and the School, particularly BU's One Billion Dollar Campaign, which will be critical in realizing the School as the premier Center of Excellence in Oral Health Education, Research, and Patient Care.
Dean Hutter also shared plans for celebrating the second half of the School's 50th anniversary year. Upon introducing a commemorative video, Dean Hutter said, "This is a very special moment for our School. I know each of you will join me in seizing this moment. Together, we can build on the momentum of a legacy of innovation and fund our proposed new facility and build a future that is truly great."
Photos are available on Facebook and Flickr.