Service Abounds in the Month of April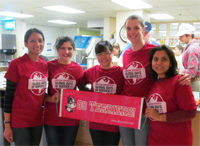 Throughout April 2013 Boston University students, faculty, staff, alumni, and their families and friends participated in Global Days of Service, an initiative offering service opportunities to BU friends worldwide. At GSDM, Global & Population Health and Alumni Relations offered several volunteer opportunities designed specifically for our Henry M. Goldman School of Dental Medicine family.
"I am so pleased to see our School continue its 50-year tradition of service," said Dean Jeffrey W. Hutter. "The volunteer opportunities of Global Days of Service were a great way to get together as a team and make a positive impact on the community."
Clothing (and more) drives
Each week in April, Global & Population Health organized collections for local organizations, including Cradles to Crayons (April 1–5), the Salvation Army and Orchard Gardens School (April 8–12), the Greater Boston Food Bank (GBFB) (April 15–19), and Rosie's Place and Pine Street Inn (April 22–26). A total of approximately 560 items were collected.
Clinical Instructor Lina Benslimane, Assistant Professor Corinna Culler, Clinical Instructor Dee Devlin, and Oral Health Promotion Director Kathy Lituri helped organize the collections.
For Cradles to Crayons, GSDM volunteers collected clothes and shoes for children newborn to age 12.
For the Salvation Army, volunteers collected back-to-school supplies, including backpacks, markers, crayons, notebooks, lined paper, construction paper, pencils, pens, and rulers. For Orchard Gardens School, where GSDM often runs community health programs, volunteers collected soccer supplies for elementary and middle school children: cleats, shin pads, shorts, shirts, and new mouth guards and socks.
On week three, the volunteers collected non-perishable food items for the GBFB.
On week four, Rosie's Place and Pine Street Inn received toiletries, new socks, and reading glasses.
Rosie's Place, Boston
On Tuesday, April 2, both pre- and post-doctoral students volunteered to serve food at Rosie's Place, a sanctuary for homeless, displaced, and battered women, located in the South End.
Post-doctoral students in the Dental Public Health program served lunch. They are: Osama Felemban MScD 12, DScD 13; Tarek Elmajie CAGS 14, MScD 14; Solafa Ayoub DScD 15; and Zaina Kalthoum DScD 15; along with Instructor Thayer Scott.
Five pre-doctoral students who are members of the BU student chapter of American Association of Women Dentists volunteered to serve dinner. They include: Shelby Curtis DMD 16, Sirisha Kovvali DMD 14, Mary McClintock DMD 16, Nora Nakshabendi DMD 16, and Amanda Yip DMD 16.
The Food Project, Lincoln, Massachusetts
Volunteers convened at the Food Project in Lincoln on the morning of Saturday, April 6, to get the fields ready for the planting season. Since 1991, the Food Project has built a national model of engaging young people in personal and social change through sustainable agriculture. Each year, more than 150 teenagers and thousands of volunteers farm 40 acres in eastern Massachusetts in the towns and cities of Beverly, Boston, Lincoln, and Lynn. Food from the farms is distributed through their community-supported agriculture programs and farmers' markets and donated to local hunger relief organizations.
"We spread mulch between the blackberry bushes, weeded the raspberry bushes, and exposed 2,500 garlic plants by removing the straw that had covered them for the winter," said Kathy Lituri.
The goal was to make a difference for those who lack healthy, affordable food in the Greater Boston area.
Volunteering: Clinical Instructor Cindy Cadoret, Kathy Lituri, Zara Nensey DMD 14, Jay Patel DMD 14, Khamir Patel DMD 14, Associate Professor and Director of the Advanced Specialty Education Program in Dental Health Woosung Sohn and his wife Mia Kim, and Jaspreet Wirring DMD 14 and her boyfriend, Jesse Singh.
Photos are available on Facebook and Flickr.
The Greater Boston Food Bank
On the morning of Tuesday, April 9, GSDM staff and faculty met at the GBFB. GBFB is the largest hunger relief organization in New England and among the largest food banks in the US. Last year, GBFB distributed almost 41 million pounds of food, enough to provide healthy meals to as many as 545,000 people. The organization is committed to increasing its food distribution in 2013 to provide at least one meal per day to every person in need in eastern Massachusetts.
Volunteers received a customized educational and team-building experience. They sorted, packed, and inspected food and groceries for people in need.
Volunteers included: Coordinator, School-based Programs Flor Amaya; Lina Benslimane; Administrative Manager Sharon Boyle; Jobina Cabrea; Wanda Cox; Dee Devlin; Research Project Assistant Krystal Garcia; Dental Health Educator Krissie Gibbs; Assistant Professor Kathy Held; Professor Elizabeth Kaye; Research Project Assistant Ramona Lara; Director of Alumni Relations & Annual Giving Stacey McNamee; Hector Mendoza; Program Administrator Sheree Norquist; Martin Pantages; Andrew Soule-Hinds DMD 15; and Swathi Uppu DMD 14.
Photos are available on Facebook and Flickr.
Relay for Life, Boston University
BU Relay for Life took place at the Track and Tennis Center on the Charles River Campus beginning at 6 p.m. on Saturday, April 13, and running until 6 a.m. Sunday. This is GSDM's fifth year participating in the 12-hour, overnight event, where participants walk the track to honor cancer survivors, remember people who died of cancer, and raise money for the American Cancer Society. Three GSDM teams raised more than $1,700!
The team members were: Yasmin Alayyoubi CAS 10, DMD 14; Dalal Alhajji CAS 10, DMD 14; Ingy Alhelawe DMD 15; Chris Atchinson; Nicholas Baldelli DMD 13; Danielle Berkowitz DMD 13; Christopher Bickford DMD 13; Andy Brito DMD 13; Kathleen Burnside DMD 14; Assistant Dean of Students Joseph Calabrese with wife Michelle and sons Joe and Tommy; Clinical Instructor Gladys Carrasco; Sean Cater; Shelby Curtis DMD 16; Nadia Daljeet DMD 13; Michelle DaRocha; Dee Devlin; Michael Donovan DMD 13; Rebecca Dorfman; Danielle Fernandez DMD 14; Kelsey George DMD 16; Johnny Gonzalez DMD 15; Dean Jeffrey W. Hutter and wife Kathy; Homan Javaheri DMD 14; Usman Javed DMD 13; Delphine Jeong; Roli Malla Joshi; Rabinder Kaur AS 13; Clinical Instructor Ana Keohane; Professor Tom Kilgore; Francis Kniskey; Andrea Lam DMD 16; Emma Lattouf; Lana Le; Luri Lee CAS 12, DMD 16; Stephanie Leung DMD 15; Michelle Li DMD 14; Linda Linsinbigler DMD 15; Kathy Lituri; Jenny Lorenzo DMD 13; Rachel Lukas DMD 13; Antonio Maceda-Johnson DMD 15; Matt Mara DMD 16; Keely Matheson DMD 15; Kelley Mclaughlin DMD 14; Richa Mehta DMD 14; Jessica Metcalfe DMD 15; Champaka Nagaraju DMD 14; Michael Navy DMD 16; Maidelys Oliva DMD 14; Fransheska Ovalles DMD 13; Khamir Patel AS 14; Thomas Pepe DMD 16; Caitlin Reddy DMD 13; Daniella Rizzo DMD 16; Ramandeep Samra DMD 15; Amrita Sandhu DMD 15; Fernando San Juan DMD 14; Clinical Assistant Professor Frank Schiano; Neelam Shah DMD 14; Muhammad Ali Shazib DMD 14; Hajra Sheikh AS 14; Sara Sheikh AS 14; Jackie St. Pierre DMD 14; Wyatt Traina DMD 14; Clinical Assistant Professor Tina Valades; Karina Vergara DMD 14; and Joey Yu.
Photos are available on Facebook and Flickr.
Cradles to Crayons, Brighton
Members of the School's Hispanic Student Dental Association (HSDA) led two volunteer sessions at Cradles to Crayons in Brighton on Wednesday, April 17. Voted 2012 best local charity by Boston A-list, the organization provides children from birth through age 12 living in homeless or low-income situations with the essential items they need to thrive, free of charge.
"We were all so impressed with the whole Cradles to Crayons operation," says HSDA organizer Fransheska Ovalles, "from the enormous, yet well-organized, warehouse filled with donations to the warm people who keep it going. It was amazing to be a part of this event. HSDA will make this another one of its annual community service traditions."
Volunteers included: Gladys Carrasco, Cindy Cadoret, Krissie Gibbs, Grace Hannawi SAR 13, Wendy Heinstein, Professor and Associate Dean for Global & Population Health Michelle Henshaw, Marian Ibarra DMD 13, Asween Marco SPH 12, Rachel Meshell, Tam Nguyen DMD 13, Fransheska Ovalles DMD 13, John Paul DMD 14, Chelsea Randall DMD 13, Kenia Rodriguez DMD 14, and Karina Vergara DMD 14.
Photos are available on Facebook and Flickr.
Several people from GSDM volunteered on their own in April. They are: Debora Heller PERIO 16 at the First Parish Church, Ana Keohane at Strong Women Strong Girls in Boston, and Clinical & Educational Operations Coordinator Carina Pina with Belle of the Ball.