International Externships' Participants Highlight Rewards of Improving Global Health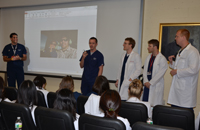 Global & Population Health hosted a motivational "Lunch & Learn" on May 2, 2013, to ignite the interest of DMD and AS students to participate in international elective externships. Many students who had already participated in the program's missions were present to share their often profound experiences providing oral health care to people who lack adequate access to it. Externship locations this academic year included remote areas in Mexico, Honduras, Guatemala, Colombia, Nicaragua, and Panama.
Associate Dean for Global & Population Health Dr. Michelle Henshaw opened the presentation:
Global & Population Health is pleased to coordinate the international elective externships, which provide our students with an opportunity to both make a positive impact on the oral health of our global community and enrich and diversify their dental education. Because of the efforts of the 43 students who participated in these programs, thousands of individuals across the world have improved oral and overall health. GSDM is committed to providing this life changing experience for all interested dental students.
Dean Jeffrey W. Hutter addressed the attendees: "I commend those students who have participated in the international externship missions. Through these efforts, you advance the mission of Boston University Henry M. Goldman School of Dental Medicine to promote excellence in community service to improve the overall health of the global population."
As someone who plays an essential role in the organization of the elective externship trips, Assistant Professor of General Dentistry Kathy Held said to those gathered:
I'm so very proud of the 43 elective externship international volunteers this year. It is hard to imagine the physical and emotional stresses such a mission can bring unless you have participated in one. I have been fortunate to be a member of some of these teams for the past 8 years and have seen firsthand the dedicated, committed GSDM students providing care with barely a breath in between patients over 10-hour days, all to see as many patients as possible. The need is so great, the pressure to provide for all those wanting relief and care leans heavily on the shoulders of students. When students realize that options are limited and anterior teeth of teenage girls need to be extracted due to lack of access to root canals, I see the pain and realization on the students' faces and feel the same. When they relieve someone's pain and get a hug, I see their joy of being a health care provider. These students made this commitment that cost them money, time from the clinic, and planning and preparation—all for the service learning experience that will stay with them for a lifetime.
A slide show, designed by Held, of pictures from the externships—telling many more than a thousand words—included images of students using unusual travel modes, like donkeys and small aircrafts; exotic locations with unfamiliar vegetation and food; harsh clinic conditions; smiling students; many of the smiling patients; and also examples of the poor oral health conditions in patients. Though, most of all, the photos displayed camaraderie, teamwork, compassion, and fortitude. The audience was palpably enthused by the presentation.
Following the slideshow, international externship participants shared their experiences with the mostly third-year DMD and second-year AS students in attendance.
The following students presented their externship experiences to the lunch attendees: Sahar Abtahi DMD 12, AEGD 13 (Honduras) and Erik Harriman DMD 14 (Colombia) along with DMD 13s Danielle Berkowitz (Guatemala), Colin Brady (Mexico), Erik Engelbrektson (Mexico), John Greiner (Mexico), Michele Holzinger (Guatemala), Andrew Jorgensen (Mexico), Melissa Knudsen (Panama), Kathy Ko (Nicaragua), Parsia Koleini (Mexico), Anna Lechowicz (Honduras), Rachel Lukas (Panama), Nadia Malik (Honduras), Patrick Moore (Mexico), Fransheska Ovalles (Guatemala), Christian Peralta (Guatemala), Elizabeth Ponder (Guatemala), Caitlin Reddy (Guatemala ), Jennifer Rubin (Guatemala), Justin Van Dusen (Nicaragua), Europa Yang (Mexico),
The remaining students who participated in externship missions this academic year, all DMD 13s, are Jung Ahn (Honduras Global Brigades), Andy Brito (Mexico), Lauren Chinnici (Guatemala), Nadia Daljeet (Guatemala), Christina Donnelly (Guatemala ), Michael Donovan (Mexico), Ilya Garibyan (Honduras), Yunji Lee (Honduras), Hilary Linton (Guatemala), Jenny Lorenzo (Mexico), Robert Lynn, Nazia Malik, Paul Nardi, Anna Pukhovitskaya (Honduras), Joshua Quinby (Mexico), Lindy Su (Honduras), Giuseppina Verde (Mexico), Michelle Vo (Honduras), and Christina Woo (Honduras).
Though the students described days involving sacrifice—challenging working conditions, long hours, and being faced with difficult treatment choices—the most common description of the trips was "rewarding."
Erik Engelbrektson talked about how rewarding he found his October 2012 mission trip to San Blas, Mexico. Engelbrektson said, "We worked at least 12 hours per day and there wasn't ever a time that I wanted to give up. Knowing that these people had been waiting all day, and the huge smiles on their faces when they left our chairs gave us the motivation to keep working until the last patient was seen."
Continuing with the sentiment of reward, Fransheska Ovalles—who went on an elective externship to Guatemala in February 2013—said, "Going on a mission trip was one of the most rewarding experiences of my time in dental school. I would advise any student to go on one and to not be hesitant due to time away from school and uncertainty of going to another country. All of that is insignificant compared to the unforgettable experience you will have. The experience changed me as a person and shaped me as a dental provider."
Dean Hutter personally awarded certificates to international externship participants "for making outstanding contributions that improved the overall health of the global community."
Photos are available on Facebook and Flickr.