Steve Perlman PEDO 76 Receives Crocker Award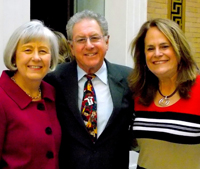 Dr. Steve Perlman PEDO 76 was awarded the 2013 Allen Crocker, MD Health Services Award at the Department of Developmental Services (DDS) and the DDS Statewide Advisory Council Annual State House Celebration.  The award is presented annually to an individual or organization that mirrors the life of Dr. Crocker and his respect for and value of individuals with a disability.
In a career that spanned more than six decades, Dr. Crocker, a Harvard Medical School pediatrician, re-conceptualized the doctor/family dialogue regarding family life with a child with Down Syndrome.  He mentored scores of physicians and impacted the education of generations of pediatricians and other professionals through the publication of definitive medical textbooks on caring for individuals with Intellectual/Developmental Disabilities.
In presenting the award, DDS Commissioner Elin Howe said, "Dr. Perlman personifies the exceptional qualities of the individual in whose name this award is given – that is a passion for offering quality care, a deep and abiding belief in the value of every individual with a disability, and an unconditional commitment to improving the quality of life for individuals with intellectual disability."
In accepting the award, Dr. Perlman told the audience of legislators, policy-makers, and disability advocates, "Let us continue to fight to end the disparities in health care for persons with intellectual disabilities, their difficulties in accessing care, the lack of education of health care providers and the end of the use of the "R" word. To quote Dr. Crocker's favorite quote, "I hope to leave the campsite better than when I found it."
Congratulations to Dr. Perlman," said Dean Jeffrey W. Hutter. "This is indeed an honor for him to be recognized by the DDS with such a prestigious award.  Dr. Perlman continues to bring great pride to his alma mater."