2013 Science Day Winners Honored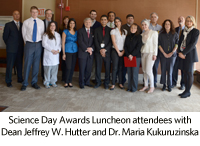 Winners from the Boston University Henry M. Goldman School of Dental Medicine (GSDM) 2013 Science Day were recognized and presented with awards at the fourth annual Science Day Awards Luncheon on April 9, 2013, held in Hiebert Lounge. Students who had recently received other honors in dental research were also recognized. During the luncheon, the award-winning student posters were exhibited on the perimeter of the room, both on digital and paper displays.
Associate Dean for Research Maria Kukuruzinska and Dean Jeffrey W. Hutter thanked the numerous people that made Science Day a success and welcomed guests, including the BU Associate Provost for Graduate Affairs Tim Barbari, and BU Medical Campus Associate Provost for Graduate Medicine Linda Hyman.
Each of the following Science Day Award winners was presented with an award certificate: Najla Alrejaye ORTHO 16, Sonal Chhanabhai DMD 15, Adriana Valery Lara PERIO & ORAL BIO 15, and Martha Neely AS 13.
The following students were then asked to stand to be recognized and applauded: AADR Bloc Travel Grant Recipient Erin Breen DMD 15, 2013 AADR Student Research Fellowship Recipient Erik Harriman DMD 14, Scholars Day Dean's Award recipient Mohammad Assaggaf ORAL BIO 13, Medical Research Scholars Program participant (2012–13) Taylor Nicholas Snider DMD 13, and NIDCR Summer Dental Student Award winner Mohamed Bayoumy DMD 16.
Dr. Kukuruzinska said, "Science Day and Science Day Awards Luncheon celebrate our students' research accomplishments and emphasize the School's commitment to incorporate research scholarship into its educational program."
Said Dean Jeffrey W. Hutter, "We can all take pride in our School's research mission and especially our students, faculty, staff, and administration who recognize the importance of research and the positive impact it has and will continue to have on the education we provide our students, and the overall health care of the patients we have the privilege of treating."
Photos are available on Facebook and Flickr.