GSDM Creativity on Display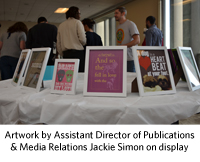 Works of art by several members of the Henry M. Goldman School of Dental Medicine (GSDM) community were on view in Hiebert Lounge for the Boston University Medical Campus (BUMC) 23rd Annual Art Days, held on April 1 and 2, 2013. All faculty, students, and staff members of the BUMC were encouraged to submit paintings, drawings, photos, poetry, sculpture, needlework, and other media for the show. The exhibition is sponsored by the Dean of the School of Medicine and mounted by the medical school Creative Arts Society.
Art Days was established by former Boston University School of Medicine Dean and BU Past President Aram Chobanian to foster the support and growth of the creative arts at BUMC. The BUMC community has embraced the event and supported its success through the years. This year's theme was based on the keyword "resilience," though artwork based on any topic was included.
The following members of the GSDM community submitted artwork for the 23rd Annual Art Days: Alumni Coordinator Kaylee Dombrowski, Clinical Assistant Professor of General Dentistry Daniel T. Moran, Gitta Motylew DMD 15, and Assistant Director of Publications & Media Relations Jackie Simon.
Photos are available on Facebook and Flickr.