GSDM Helps BU "Spread the Health" at Annual Wellness Fair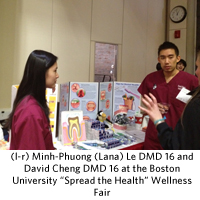 On Wednesday, March 27, 2013, Boston University (BU) held its "Spread the Health" Wellness Fair in the George Sherman Union on the Charles River Campus. The Fair is held annually for BU undergraduates and addresses a variety of relevant issues, including oral health.
Boston University Henry M. Goldman School of Dental Medicine (GSDM) Oral Health Promotion Director Kathy Lituri and four student volunteers participated in the Fair.
The volunteers were: David Cheng DMD 16; John Costello DMD 16; Grace Hannawi SAR 13, DMD 17; and Minh-Phuong (Lana) Le DMD 16.
The GSDM group offered oral health promotion, education, age appropriate activities, screenings, and referrals. Their information included details about: third molars, oral piercing, the oral health consequences of alcohol, tobacco and sugar, and dental careers. Many of the undergraduates who visited the GSDM table were interested in careers in dentistry and are currently on the pre-dental track.
"The Fair is well-organized, inclusive and offers information on all kinds of topics relevant to this age group," said Kathy Lituri. "It's a great venue for GSDM to educate college students about the importance of dental health."
"I'm so pleased to see GSDM students participate in Boston University's "Spread the Health" Wellness Fair every year," said Dean Jeffrey W. Hutter. "The Fair's focus on all aspects of health provides an excellent opportunity to educate BU students about oral health."