Celebrating Our Dedicated Employees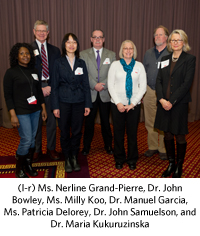 On Monday, March 18, 2013, several Boston University Henry M. Goldman School of Dental Medicine (GSDM) employees were recognized and honored at a Service Recognition Luncheon held by Boston University in Metcalf Hall, George Sherman Union. BU holds the Service Recognition Luncheon each year to honor employees who have reached milestone markers in their careers at BU. The GSDM employees honored at the Luncheon will be celebrating either 10 years or 25 years of service.
"On behalf of the Henry M. Goldman School of Dental Medicine, I want to thank the following faculty and staff for their dedication and service to our School and to Boston University," said Dean Jeffrey W. Hutter.
Celebrating 10 years: Dr. Michael Blau, Dr. John Bowley, Dr. Manuel Garcia, Ms. Nerline Grand-Pierre, Dr. Robert Gyurko, Ms. Milly Koo, Dr. Andrea Maalouf, Dr. Miklos Sahin-Toth, Ms. Vera Sahin-Toth, Dr. John Samuelson, and Ms. Adriane Wilson.
Celebrating 25 years: Ms. Patricia Delorey and Dr. Maria Kukuruzinska.