GSDM's Carina Pina Co-Authors Article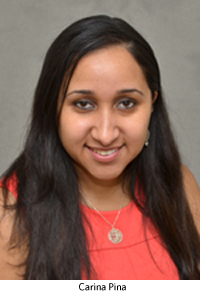 Carina Pina, Clinical & Educational Operations Coordinator at the Boston University Henry M. Goldman School of Dental Medicine (GSDM), is second co-author of an article that has been published in the Pediatric Emergency Care journal's March 2013 issue.
Pina worked with several physicians and staff members from Boston Children's Hospital and Duke University on the article, "Use of An Automated Case Log to Improve Trainee Evaluations on a Pediatric Emergency Medicine Rotation." They conducted a retrospective study of faculty evaluation of students rotating through the emergency department (ED) from July 2005 to December 2008.
The authors from Boston Children's Hospital are: Joshua Nagler MD; Debra Weiner MD, PhD; Michael Monuteaux ScD; and Richard G. Bachur MD. Alisa Nagler JD, EdD from Duke University also contributed to the article.
"I am very proud and honored to have worked with these esteemed physicians from Boston Children's Hospital on this project and to have this article published in a prestigious journal is an even greater achievement," said Pina. "I look forward to gaining more research experience and hope that it will increase my knowledge and effectiveness as Clinical Coordinator for the Office of Clinical Education & Operations at the Boston University Henry M. Goldman School of Dental Medicine."