Mutual Gratitude Shared by Students and Patients on Guatemala Mission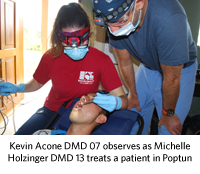 If someone pulled out one or more of your teeth, would you think of giving her a gift the following day? Lauren Chinnici DMD 13 was on the receiving end of this seemingly unlikely experience when she received gifts from several patients that she saw during her international externship in Poptun, Guatemala, in January 2013.
In one case, Chinnici extracted four teeth from a little girl who returned the following day with a bag of fresh bananas. Another girl, named Erica, made a bracelet for Chinnici and sent it to through Erica's brother and mother when they visited the mission's clinic the next day. Chinnici was still wearing this bracelet upon her return to Boston. This gratitude was not isolated to Chinnici's experience. All seven students who provided dental services in Poptun were received with appreciation: Many hugs were shared around the treatment rooms during the mission.
On this trip directed by the non-profit organization LIGA International (The Flying Doctors of Mercy), two groups of Boston University Henry M. Goldman School of Dental Medicine DMD 13 students traveled to Poptun, Guatemala: Danielle Berkowitz, Nadia Daljeet, and Caitlin Reddy from January 10 to January 21 and Lauren Chinnici, Christina Donnelly, Michelle Holzinger, and Hilary Linton along with Assistant Professor Kathy Held. The team leader for the Poptun mission was GSDM alum Kevin Acone DMD 07.
Despite challenging conditions at the makeshift clinic, attendees described a positive experience during which they were able to improve their dentistry skills and confidence in their work and judgments. With no X-rays, poor lighting, and limited material and equipment, each student saw from 60 to 100 patients every day, performing consultations, extractions, fillings, and applying fluoride varnish. They worked 10 to 11 hours daily seeing patients who were often suffering from numerous dental problems. Communication with patients was also difficult because the students did not share a common language. Christina Donnelly managed to keep children smiling by using only a handful of phrases she knew, like "¿te gustan los perros." That is, "Do you like dogs?"
The students returned not only with skills and valuable experience, but with a new understanding of some of the oral health challenges that face global communities. All the students had positive things to say about their trips. Nadia Daljeet described the mission in Poptun as "my best experience in dental school." Danielle Berkowitz reported that "the trip was an amazing experience in which my abilities were used for the greater good of a poor population." Caitlin Reddy wrote in her feedback: "Invaluable experience. Can't say enough about it."
Dean Jeffrey W. Hutter praised the students' work: "These students embody the mission of the Boston University Henry M. Goldman School of Dental Medicine to provide community service to improve the overall health of the global population. On behalf of the School, I extend my thanks to Danielle, Nadia, Caitlin, Christina, Michelle, Lauren, and Hilary for serving as positive global representatives for Boston University and the Henry M. Goldman School of Dental Medicine."
Photos of the trip are available on Facebook and Flickr.