GSDM Readies for the 50th Anniversary Kick-off Celebration at Yankee Dental Congress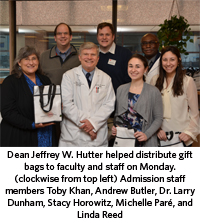 Dean Hutter and members of the 50th Anniversary Celebration Planning Committee handed out gift bags to faculty and staff yesterday and today in the cafeteria. The Office of Student Affairs will be distributing items to all pre-doctoral and post-doctoral students tomorrow. Gift bags included buttons, lanyards, notepads, and hats. Be sure to attend the historic reception to kick off a yearlong 50th Anniversary Celebration of the founding of the Boston University Henry M. Goldman School of Dental Medicine. Friday, February 1, 2013, 6:30–8:30 p.m. in the Plaza Ballroom at the Seaport Boston Hotel, 1 Seaport Lane, Boston. Contact Lindsay McHugh at lindsayc@bu.edu or 8-4889 and visit www-staging.bu.edu/dental/about/50th–anniversary.
Photos are available on Facebook and Flickr.