Stacey McNamee Assumes Expanded Role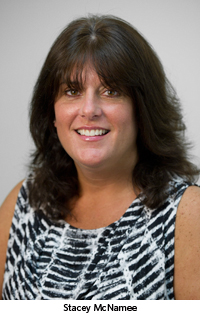 Director of Alumni Relations Stacey McNamee has recently assumed an expanded role within the Office of Development and Alumni Relations. McNamee, a long-term and beloved staff member of the Henry M. Goldman School of Dental Medicine (GSDM), has been promoted to Director of Alumni Relations and Annual Giving, and will be charged with directing all aspects of departmental fundraising at the School. Working closely with department chairs, faculty, and staff, McNamee will ensure that each department effectively engages their alumni constituencies at the highest levels of communication and programming, aligning alumni in their efforts to support their respective departments.
The University and GSDM publicly launched Boston University's first ever comprehensive campaign, "Choosing to be Great," in September 2012, which will allow each School to target all fundraising dollars to their own priorities. The campaign, with an ambitious goal of one billion dollars, is focused on helping each School achieve its highest priorities. GSDM's campaign priorities were selected after an exhaustive yearlong Applied Strategic Planning Project, which included input from every constituency within the GSDM community. McNamee, a member of the Applied Strategic Planning Committee, will now be focused on raising funds to support each department's highest priorities identified as critical to help GSDM achieve its goal to become the premier academic dental institution promoting excellence in dental education, research, oral health care, and community service to improve the overall health of the global population.
McNamee states, "Our alumni body is by far the greatest strength of this Institution and I have been so fortunate to count many of them as personal friends during my time at GSDM. Working with them to help achieve and promote the greatness of each one of our departments is a truly exciting opportunity."
McNamee will continue her role as primary liaison with the GSDM Alumni Association, working with Alumni Association President, Mitch Sabbagh DMD 87, and the Alumni Board to support their leadership efforts on behalf of the GSDM alumni body. As part of this role, McNamee serves on the 50th Anniversary Celebration Committee, which helped plan the celebration to mark the 50th anniversary of the founding of GSDM by Dr. Henry Goldman in 1963. This yearlong celebration that will include alumni events both nationally and internationally will be launched on February 1 at the 2013 Yankee Dental Congress.
In addition, McNamee will lead all annual fund activities, partnering with the newly recruited Chair of the GSDM Annual Fund, Dr. Carl McManama. McNamee assumes her new role as part of a top priority of Dean Jeffrey W. Hutter to create a fully-staffed Office of Development and Alumni Relations. She will continue to report to Kevin Holland, Assistant Dean of Development and Alumni Relations. Holland says, "In the three years I have worked with Stacey, I have found her to be a tremendous resource to the Office. Given her tenure here, she knows many of our alumni personally and is tireless in helping connect alums to each other, and helping create a closer alumni body."