Kathy Bagley's Retirement Celebrated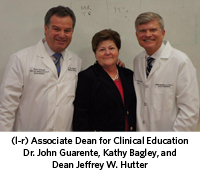 On Monday, November 19, 2012, members of the Boston University Henry M. Goldman School of Dental Medicine (GSDM) community gathered to celebrate the retirement of Kathleen Bagley and her 15 years of service at the School.
Most recently, Kathy worked as Pre-doctoral Data Support Manager in the division for Pre-doctoral Clinical Education under Clinical Associate Professor of General Dentistry and Associate Dean of Clinical Education Dr. John Guarente where she provided comprehensive management of the Pre-doctoral Clinical Education Office including organization of student, faculty, and staff activities and data reporting.
Kathy began her work at GSDM in 1997 in the Registrar's office as Administrative Coordinator and later worked as Administrative Coordinator in Patient Services. She holds a Bachelor of Science in Paralegal Studies from Boston University.
Dr. John Guarente reflected: "Truth be told, the accomplishments of our office over the past 11 years were more dependent on the tireless effort of Mrs. Bagley than anything else. She will be missed."
Dean Jeffrey W. Hutter added: "Kathy has made important contributions to the Boston University Henry M. Goldman School of Dental Medicine over her time with us. She will always have a home here at the Goldman School of Dental Medicine."