GSDM Continues Support at Women to Women Event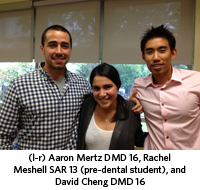 The Boston University Student Chapter of American Association of Women Dentists (AAWD) returned to Rosie's Place for the monthly "Women to Women" event on Friday, October 12, 2012. This initiative is a collaboration of the Boston University Henry M. Goldman School of Dental Medicine (GSDM) Division of Community Health Programs (CHP) and the Wellness Clinic at Rosie's Place.
At "Women to Women" events, students —under the guidance of Oral Health Promotion Director Kathy Lituri—learn about the issues facing women at Rosie's Place and work alongside nurse practitioners and nursing students. It serves as both a valuable teaching experience and a vital part of giving back to the local community.
The student volunteers at this Women to Women event were David Cheng DMD 16; Jae Kwak DMD 16; Aaron Mertz DMD 16; Rachel Meshell SAR 13 (pre-dental student); Ritu Singh AS 13; Sirisha Rao DMD 14; and Manu Sharma AS 13.
"I am so pleased to see our students participate in this important event every month," said Dean Jeffrey W. Hutter. "Giving back to the community is an important part of our mission and it is truly gratifying to know that our students participate in our community so consistently."