Dr. Maria Kukuruzinska Receives New Sjogren's Syndrome Research Grant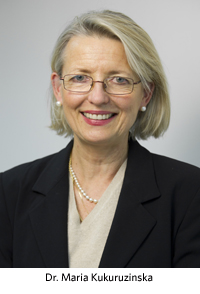 Associate Dean for Research Maria Kukuruzinska has been awarded funds to research the functional role of the Hippo pathway in Sjogren's syndrome (SS), a chronic autoimmune disease that primarily affects exocrine salivary and lacrimal glands.
The grant covers the period from July 1, 2012, through June 30, 2013, with a possible one-year extension. It awards $35,000 per year.
"This award will support our research into the molecular mechanisms driving the development and progression of Sjogren's Syndrome. Our research has direct translational implications for regenerative medicine and therapeutics," said Dr. Kukuruzinska.
"Dr. Kukuruzinska's grant highlights the Boston University Henry M. Goldman School of Dental Medicine's longstanding commitment to dental research as an integral part of dental medicine," said Dean Jeffrey W. Hutter. "I commend Dr. Kukuruzinska and her outstanding achievement."
More information on the research grant can be obtained on Sjogren's Syndrome Foundation website.