Free Flu Shots Are Back for Faculty and Staff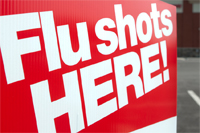 Free flu shots for faculty and staff start this week on the Boston University Medical Campus (BUMC) and continue next week at GSDM. A BU ID is required and individuals should wear short sleeves or clothing that allows easy access to the upper arm. Student clinics will be announced later.
This week, October 9, 10, and 12, BUMC is hosting Walk-In Flu Clinics for faculty and staff at the BU Office of Human Resources at 801 Massachusetts Avenue, second floor, suite 400. Clinics are scheduled based on the first initial of employees' last names, but are open to all employees on any of the three dates.
Dates and times are:
Last names A–I
Tuesday, October 9, 2012
9:30 a.m.–noon and 1:30–4 p.m.
Last names J–R
Wednesday, October 10, 2012
9:30 a.m.–noon and 1:30–4 p.m.
Last names S–Z
Friday, October 12, 2012
9:30 a.m.–noon
GSDM clinics will be held in room G-309 and administered by the BU Occupational Health Center at these times:
Tuesday, October 16, 2012, 11 a.m.–1:30 p.m.
Thursday, October 18, 2012, 11 a.m.–1:30 p.m.
Flu shots are available free at these clinics. Employees who receive flu vaccines elsewhere will be responsible for the cost.
Those who have already received or wish to decline the vaccine must complete a flu reporting form to comply with Massachusetts Department of Public Health regulations (105 CMR 130.325(I), 140.150(C), 150.002(D)(8). The flu reporting form is available in the Dean's Office, G-317, or at one of the GSDM on-site flu clinics.