Health, Not Baseball, Draws Children to Fenway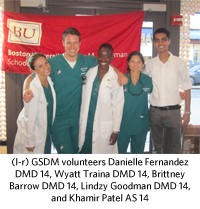 The halls inside Fenway Park were packed wall-to-wall with middle school children and their families on August 29, 2012, but they weren't there to see the Red Sox. They were there for Boston Public Schools' Middle O! Middle School Orientation Event, an evening for sixth grade students attending a new Middle School.
Students from the GSDM chapter of the Student National Dental Association (SNDA) sponsored the community outreach opportunity for students at GSDM and worked alongside Oral Health Promotion Director Kathy Lituri and Clinical Instructor Ana Keohane. Wally the Green Monster even stopped by to pose for photos with GSDM students and faculty.
GSDM volunteers conducted screenings; distributed mouthguards, toothbrushes, and toothpaste, played oral health-related games with children such as Guess the Celebrity Smile and Go, Slow, or Whoa!; and set up educational stations addressing oral health careers, the dangers of tobacco, and diabetes and oral health. At many of the volunteering organizations' tables, children could earn tickets by playing games or answering questions. They later traded in their tickets for school-related prizes, such as highlighters, post-its, and glue.
SNDA President Brittney Barrow DMD 14 said, "SNDA was glad to participate in Middle O! again this year. The children we spoke with are at an impressionable age and if we can get them to practice good oral health now, they will likely continue good habits in the future."