New Residents Welcomed at Endodontic Reception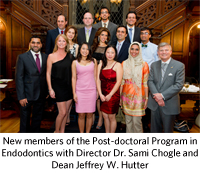 New Director of the Advanced Specialty Education Program (ASEP) in Endodontics Dr. Sami Chogle hosted a reception to welcome the new and returning residents of the Boston University Henry M. Goldman School of Dental Medicine (GSDM) Advanced Specialty Education Program in Endodonticson Friday, September 14, 2012, at the BU Castle.
Dean Jeffrey W. Hutter welcomed faculty, staff, guests, and residents before introducing Dr. Chogle, who welcomed new residents to their, and his, first Endodontic Welcome Reception. Dean Hutter said, "Dr. Chogle joins the Boston University community with a reputation of excellence in clinical care, scholarship, instruction, and mentorship. I am confident that he will carry on his record of excellence in his position as Director of the Advanced Specialty Education Program in Endodontics. I look forward to seeing his positive influence on the Program."
After introducing the Department of Endodontics faculty and staff, Dr. Chogle then introduced and welcomed the new residents. "Congratulations to each of you on being accepted to this internationally-renowned program. I hope you are as excited as I am to be joining the endodontic family at Boston University Henry M. Goldman School of Dental Medicine. I wish you the best of success and look forward to getting to know you in the coming months."
Dr. Iman Labib also addressed guests and welcomed residents as president of the GSDM Endodontic Alumni Association. As a new twist this year, guests enjoyed a sit-down, plated dinner.
Enrolled in the CAGS Class of 2014 are: Ashraf Abd-Elmeguid, Mey Alhabib, Roshanak Baghai Naini, Pablo Duluc Vega, Jennifer Kim, Jose Line Leduc, Christian Morasse, Manal Saadoun, Arman Samad-Zadeh, and Eugenia Yang.
Also enrolled are: Paritosh Amburle, MSD class of 2015; Mohmaed J. Ahmed, DScD class of 2016, and Yousef Alnowailaty, DScD class of 2017.
Photos from the reception are available on Facebook and Flickr.