Dr. Paula K. Friedman Represents Massachusetts Dental Society on Jimmy Fund Telethon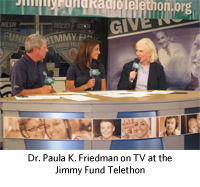 Dr. Paula K. Friedman, associate dean for strategic initiatives and professor at the Henry M. Goldman School of Dental Medicine and president of the Massachusetts Dental Society (MDS), appeared on NESN on Tuesday, August 21, 2012, as part of the Jimmy Fund Telethon. The telethon was held at Fenway Park for two days: Tuesday and Wednesday, August 21 and 22.
Dr. Friedman was there on behalf of the MDS to share information about oral cancer and the effects of cancer treatment such as chemotherapy and radiation on the oral cavity. In addition, the MDS made a $2,500 donation to the telethon.
Dr. Friedman was interviewed by Dale Arnold, host of Boston Bruins broadcasts on NESN, and Jenny Dell, NESN's Red Sox infield reporter.
"I want to thank Dr. Friedman not only for her continued efforts to promote oral health through organized dentistry," says Dean Jeffrey W. Hutter, "but also for representing the Goldman School so well in the community."