New Students and Other Volunteers Make Operation Stand Down a Dental Success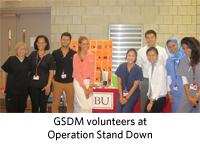 The 2012 Massachusetts Operation Stand Down was held on August 24 and 25, 2012, at the International Brotherhood of Electrical Workers (IBEW) 103 in Dorchester for the second consecutive year. GSDM students volunteered under the direction of Oral Health Promotion Director Kathy Lituri, providing dental screenings to 91 participants.
There was an impressive volunteer turnout. Incoming DMD 16 students—some of whom were volunteering at their first CHP event—were especially enthusiastic.
Steve Armbrust DMD 16 worked as a recorder. He said, "You don't get out of lecture much as a first and second year student, so this is a great preview of what's to come in clinic and a chance to see the people in your community who are in need of care."
The group also offered denture cleaning and labeling and oral health supplies such as toothbrushes, toothpaste, dental floss, and denture kits. GSDM worked with Healthcare for the Homeless again to refer veterans who are homeless or living in a shelter.
"This event is a real world application of what we learn about in school," said Andrea Lam DMD 16. Lam described one veteran who had lost 30 pounds in six months because his dentures were so painful that he stopped wearing them and stopped eating. He was referred to Healthcare for the Homeless.
The Massachusetts Stand Down is cohosted by Volunteers of America Massachusetts and the Department of Veterans Affairs to provide free services to homeless veterans or veterans at risk of becoming homeless.
"I am so pleased to see our students, staff, and faculty return to this important event year after year and especially excited to see our incoming students become involved in the community right away," says Dean Jeffrey W. Hutter. "I commend each and every one of you for volunteering your time to assist our veterans."
Thank you to our many volunteers: Steven Armbrust DMD 16, Solafa Ayoub DPH 15, Christopher Balaban DMD 16, Ella Botchevar DMD 14, Matthew Dekow DMD 14, Tarek Elmajie DPH 13,  Ashley Gomes DMD 14, John Greiner DMD 13, Hebah Hamdan DPH 15, Zaina Kalthoum DPH 15, Andrea Lam DMD 16, Minh-Phumg (Lana) Le DMD 16, Lindsey Nowland DMD 16, Oliutayo Odusanwo AS 13, Christian Peralta DMD 13, Satinder Kaur Pandher AS 13, Delsaz Sultan AS 13, and faculty Ms. Kathleen Held, Ms Kathy Lituri, and Ms. Ana Keohane.
You can find photos of all the Operations Stand Down volunteer groups on the official Facebook page and photos of GSDM volunteers on Facebook and Flickr.