Student Research Group Holds Journal Club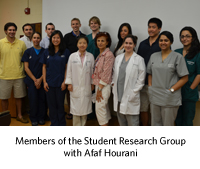 Members of the Student Research Group (SRG) gathered for their inaugural meeting of the 2012-13 academic year on Wednesday, July 11, 2012, in G-301. Assistant Director of Pre-doctoral Research Afaf Hourani introduced the newly-elected SRG officers: President Europa Yang DMD 13, Vice-President Joshua Gilbert DMD 14, Secretary Ray English DMD 14, and Treasurer Insun Yoon DMD 13. Yoon was not in attendance, as she is away on externship until the fall. Yang welcomed everybody and thanked them for attending.
This first SRG meeting consisted of a journal club for Intensive Research Elective Course (IREC) students and those involved in research related to the topic covered. Ray English DMD 14 and Joshua Gilbert DMD 14 presented the article "Dental X-Rays and Meningioma." The IREC students prepared a critique of the article including solutions, issues, and ideas raised by the research it presented. They also prepared questions to engage in the discussion with the presenters Gilbert and English. The lively discussion included such topics as the limitations involved with self-reporting, especially when some patients may not fully understand the difference between bite-wings and Panoramic radiographs.
All are welcome to attend the next journal club meeting this fall and join the discussion.