OMFS Graduates Honored at Venezia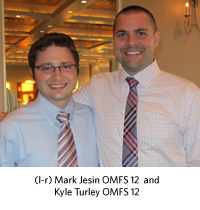 GSDM's Department of Oral & Maxillofacial Surgery hosted a graduation reception on Thursday, June 14, 2012. The reception honored graduates of the residency program who recently earned their Certificates of Advanced Graduate Study (CAGS). The event, held at the Venezia Restaurant, in Boston, had approximately 70 people in attendance.
The evening started with graduates, faculty, and staff mingling over cocktails, fruit, and cheese and crackers during a social hour before dinner. During dinner, Chair of Oral & Maxillofacial Surgery and Associate Dean for Hospital Affairs Dr. Pushkar Mehra, and Director of Head and Neck Oncology, Director of Residency Training, and Assistant Professor Dr. Andrew Salama presented the Certificates of Advanced Graduate Study to the graduates. Graduates included: OMFS 4th Year Residents Dr. Mark Jesin and Dr. Nathan Turley, and from the one year Internship Program: Dr. Anastasios Sakellariou, Dr. Hafiz Hasnain, Dr. Nisreen Takulla, Dr. Alvin Choi, and Dr. Samson Murgesh Nadar.
In his remarks, Dean Hutter praised Drs. Mehra and Salama along with the OMFS faculty for the outstanding job they are doing, recognized Drs. Donald Booth and David Cottrell for their continued support of the Department of Oral & Maxillofacial Surgery and stated, "I would like to congratulate the Oral & Maxillofacial graduates on completing their program. It is certainly a tremendous accomplishment and they deserve recognition."
Dr. Pushkar Mehra said, "It has been another successful year for Oral & Maxillofacial Surgery, which would not have been possible without the hard work of our faculty, residents, staff, and part-time volunteers, as well as the support of our alumni. Our graduation dinner is getting bigger and better each year as the department expands, bringing together alumni and our affiliates to forge new relationships and celebrate the accomplishments of our graduating residents." He continued, "I congratulate our residents on their success and wish them all the best as they embark on new endeavors."
Residency Program and Credentialing Coordinator Cheryl Flynn received the Employee of the Year Award and Dr. Mehra earned the Faculty of the Year Award. The department would like to thank Corporate Sponsor Stryker Leibinger.
Photos can be found on flickr and facebook.