Alum Returns as New Director of Diversity & Multicultural Affairs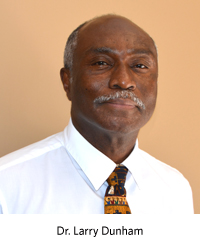 New Director of Diversity & Multicultural Affairs Dr. Larry Dunham joined GSDM on July 1, 2012, after an extensive national search.
Dr. Dunham will develop and implement strategies and programming to strengthen the diversity of the applicant pool and facilitate enrollment of eligible, highly qualified students who reflect the diversity of the general population.
He will encourage success and retention of enrolled students and nurture interest in and preparation for dental school education in Pipeline populations. Pipeline populations include underrepresented minorities and economically disadvantaged students.
He will also coordinate advising, retention, and outreach-related services to both current and prospective students with a focus on underrepresented minority populations.
Dr. Dunham reports to Assistant Dean for Admissions Ms. Catherine Sarkis and works closely with Assistant Dean of Students Dr. Joseph Calabrese.
Dr. Dunham received a DMD from GSDM in 1983. He also holds a bachelor's degree from the University of Massachusetts, Amherst. He served as an Operative Instructor at GSDM from 1984 to 1998. He has been an APEX preceptor for GSDM since 1999 in his Cambridge office, which he has operated since 1987.
In 1990, he received the Black Achiever Award from the Boston Medical Center and the Greater Boston YMCA. In addition to his US license, he holds a long-term dental license to practice in Barbados, West Indies.
Dr. Dunham has extensive experience with the National Dental Association (NDA). He previously served as Treasurer and currently serves as President of the Bay State Chapter of NDA. He recently traveled to Haiti as part of a five-member team to identify opportunities for the NDA to be of assistance to the National Public Health Care Agenda in Haiti.
He has also traveled to Honduras as a volunteer dentist with Cape Cares. Through his private practice, he has sponsored internships for many students, including those from Nigeria, Haiti, Colombia, and Barbados.
"I am very pleased that Dr. Dunham will be serving in this important role at GSDM," said Dean Jeffrey W. Hutter. "Please join me in welcoming Dr. Dunham and wishing him every success in his new role."