AEGD and PGOE Residents Honored at Graduation Reception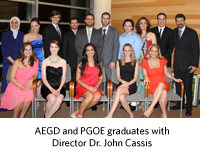 Clinical Professor and Director of the Dental Health Center and Advanced Education in General Dentistry Program Dr. John Ictech-Cassis hosted a graduation reception in honor of the 2012 graduates of the Advanced Specialty Education Program in General Dentistry (AEGD) and Post Graduate Operative and Esthetic Program (PGOE). The event was held at the Student Village on Friday, June 22, 2012.
Professor and Chair of the Department of Restorative Sciences & Biomaterials Dr. Dan Nathanson also hosted the evening, but was unable to attend due to a scheduling conflict with the Annual Meeting of the International Association for Dental Research. He said, "Congratulations to all of you for your accomplishments and many thanks for your hard work and dedication to your patients during the length of the program."
Dean Jeffrey W. Hutter welcomed the residents, families, faculty and staff and praised the excellence of the AEGD and PGOE programs, the faculty, and Dr. Cassis. At the reception, Dr. Cassis said, "Out of an applicant pool of over 260, we successfully selected 14 residents, combined, for both programs. Your hard work, dedication, and enthusiasm have made you a great general dentist which has made all of us here very proud. These 14 decisions turned out to be some of the best decisions we made throughout all of last year." He continued, "I congratulate you for your accomplishments and I commend the faculty and staff for their dedication to both programs."
President of the GSDM Alumni Association and Chair of the GSDM Alumni Board, Clinical Assistant Professor Tina M. Valades DMD 84 welcomed the new graduates to the Alumni Association.
The Class made contributions toward a class gift, which Assistant Dean of Students and Assistant Professor Joseph Calabrese, DMD 91, AEGD 92 agreed to match. He said, "It's hard to believe that 20 years have passed since graduating from AEGD. The foundation that Dr. Janet Peters put together has stood the test of time and now has been strengthened by the great work of Dr. Cassis, who next year will celebrate his twentieth year as the program director. This program means a great deal to me, as I know it does to all of you. Your contributions to your class gift set a precedent for future AEGD classes to give back to a program that gave so much to all of us."
After dinner, Dr. Cassis announced the names of the graduates of the 2012 AEGD and PGOE programs. Graduates of the AEGD program include: Hamed Alenezi CAS 08, DMD 11, AEGD 12, Alexandra Antonescu DMD 11, AEGD 12, Lindsay Bruneau DMD 11, AEGD 12, Moira Casey AEGD 12, Justin Cifuni GMS 07, DMD 11, AEGD 12, Pablo Duluc Vega AEGD 12, Roxana Hashemian AEGD 12, Flavio Kottar AEGD 12, Miranda Lucht DMD 11, AEGD 12, Lorenzo Mordini AEGD 12, Candace Schoengold AEGD 12 and Leila Zamani CAS 05, DMD 11, AEGD 12.
Graduates of the PGOE program include: Asma Ben Salah PGOE 12, Ahmed Kaddi PGOE 12, and Ali Khiblil PGOE 12.
Dr. Lindsay Bruneau received the AEGD Clinical Excellence Award, and Dr. Hamed Alenezi received the AEGD Clinical Proficiency Award. Dr. Ahmed Kaddi received the Award for Outstanding Achievement in Operative and Esthetic Dentistry Program.
Class Representative Dr. Miranda Lucht then spoke. She thanked the faculty and staff for their hard work throughout the year and said that her and her fellow residents' skills had greatly improved as a result of the faculty's dedication. She also spoke about how important each of the residents had become to her.
The graduates presented a slideshow of highlights from their days here at GSDM. They presented Dr. Cassis with two gifts: a framed photo of a waterfall in his home country of Honduras and an engraved iPad.
Photos can be found on facebook and flickr.