Large Volunteer Turnout at 2012 Special Olympics Special Smiles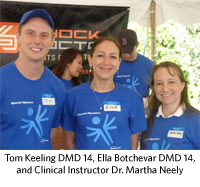 Students, staff, faculty, and alumni of Boston University Henry M. Goldman School of Dental Medicine (GSDM) returned to Harvard University's Athletic Complex on June 16, 2012, to volunteer for the Healthy Athletes® Special Smiles® initiative at the Special Olympics Massachusetts Summer Games.
More than 150 people volunteered from area dental and hygiene schools, including those at Bristol Community College, Cape Code Community College, Forsyth, Harvard, Middlesex Community College, Mount Ida College, Mount Wachusett Community College, Tufts, Springfield Technical Community College, and GSDM, which had 39 volunteers. Volunteers offered toothbrushes, mouth guards, and dentist referrals to hundreds of young athletes.
"It was a pleasure for Kathy and me to participate in Special Smiles and we are so very proud of the students who volunteered their time to participate in this very worthwhile event," Dean Jeffrey W. Hutter said. "I also want to recognize the hard work that Director of Alumni Relations Stacey McNamee puts forth each year in organizing Special Smiles."
Senior Global Clinical Adviser to Special Olympics Healthy Athletes® Special Smiles® and GSDM Clinical Professor of Pediatric Dentistry Steve Perlman PEDO 76 worked with Special Olympics founder Eunice Kennedy Shriver to start the program in 1993.
Photos can be found on facebook and flickr.