USSDA Students Stand Up for Veterans at Operation Stand Down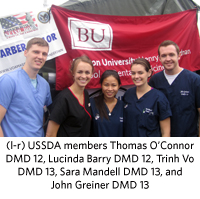 The 2011 Massachusetts Operation Stand Down was held on August 26 and 27, at the IBEW 103 in Dorchester. GSDM, under the leadership of CHP Oral Health Promotion Director Kathy Lituri, has volunteered at this event for several years running, but this year they collaborated with Dr. Al Filzer and Healthcare for the Homeless to provide the best services possible to the homeless veterans in attendance. The group screened 143 veterans over the course of the two-day event and provided denture cleaning and referrals for oral health issues when needed.
All dental students were welcome and encouraged to participate, however students of GSDM's Uniformed Services Student Dental Association (USSDA) really turned out in force for the event. USSDA is a fairly new student group whose goals are to promote awareness of dentistry in the Armed Forces and the Public Health Service, provide support and assistance to fellow dental students in the Uniformed Services, and to uphold their commitment to service through community outreach in local areas of need.
Said USSDA leader John Greiner DMD 13, "I emailed all of our members to attend Operation Stand Down, and got a great response. This event was so important to us because we were able to directly help military veterans. Without these selfless individual's service to our country we wouldn't have people to serve as dentists. Being in the military, as an officer, has provided me and others in our organization with a deeper respect and thankfulness for the people who serve currently, and who have served in the past."
Dean Jeffrey W. Hutter added, "As a retired Captain of the United States Navy Dental Corps, with 21 years of service, I think it is very important to support local veterans in their time of need. Operation Stand Down is an excellent way for our students to reach out to these veterans and I am extremely proud of their efforts at this year's event.
In addition to the services that GSDM provided veterans also received a variety of other goods and services at the event including: food, shelter, clothing, and other health screenings.
Greiner added, "This was the least we could do for these individuals who have invested so much time and energy into the country we love."
USSDA will begin welcoming new members as well as holding officer elections in mid to late September. This will mark the second full year that USSDA has been active at GSDM and their goal is to grow and increase their presence. For more information contact Greiner at jgreiner@bu.edu.
Photos are available on facebook and flickr.