Rhett Brings a New Twist to Annual Ice Cream Social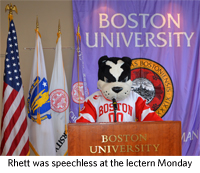 It would not be the first day of GSDM orientation without the School's well-loved Ice Cream Social. And for the first time this year, BU's mascot Rhett joined the fun, with as many students lined up to greet him as were in line for ice cream.
Alums Craig Allen and Nicole Paquette-Allen, both DMD 95, were not in attendance but funded the event as they have generously done for five consecutive years.
But it was not all ice cream eating and picture taking. Students received their first official BU Dental tee shirts and information from 17 resources including Zipcar, Fitrec, several U.S. military organizations, and many student groups.