Orientation Gets Underway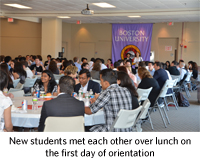 New DMD and Advanced Standing (AS) students began their first day of school at Boston University Henry M. Goldman School of Dental Medicine (GSDM) on August 1. Students spent the week meeting and listening to presentations by key GSDM faculty and staff.
"The Office of Admissions strives to identify, select, and recruit students who will excel academically, be engaged in the life of our school, enhance the diversity of our school community, and contribute substantially to our society by caring for patients, conducting research, and advancing the public's health," said Assistant Dean of Admissions Catherine Sarkis in a speech to incoming students.
"All of you were determined to have exceptional potential and I am very proud to welcome you here today."
Dean Hutter said, "You are here today because you have chosen dentistry as your career and you are enrolled at Boston University because you have worked very hard in achieving the credentials necessary for acceptance into what is considered one of, if not, the finest dental school in the world."
He highlighted that the incoming students come from 20 states and provinces in the U.S. and Canada and 23 countries.
Also during orientation week, students voted for their classes' scrubs color. The DMD class of 2015 chose grey and AS 2013 chose Caribbean blue.
Photos from orientation week are available on facebook and flickr.