Dean and Mrs. Hutter Open Their Home to New Students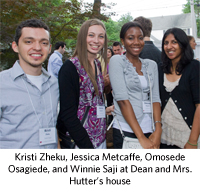 For the second year, Dean and Mrs. Jeffrey Hutter welcomed new predoctoral students to their Newton, Massachusetts home with a series of receptions during orientation week.
Six small groups of students over three days boarded a shuttle bus at the School headed to the Hutters' home. Groups were again assigned names honoring BU and GSDM people and places, including the Goldman, Frankl, Hutter, terrier, South End, and Fenway groups.
"Kathy and I are so pleased that these Welcome Receptions have become a tradition for new predoctoral students," said Dean Jeffrey Hutter. "There is no better way to welcome students to the GSDM family than by welcoming them into our home."
Special thanks go to Event & Meeting Planner Lindsay Corrigan and Director of Alumni Relations Stacey McNamee for organizing the event.
Photos are available on facebook (receptions on August 2, August 3, and August 4) and flickr (August 2, August 3, and August 4).