Yum! GSDM Indulges in Sweet Treats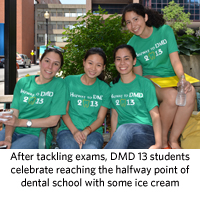 The Ice Cream Social was held on a beautiful sunny Wednesday afternoon at GSDM. Dean Jeffrey W. Hutter hosted students, staff, and faculty as they made their own sundaes and congregated in groups on the benches outside the Dental School.
"What a great day for ice cream!" said Dean Hutter. "Everyone at the School is very deserving of this tasty treat, but I'm especially proud of our students who just wrapped up a strenuous schedule of exams."
Dean Hutter also thanks Event Planner Lindsay Corrigan for organizing such a delicious event.
Photos are available on facebook and flickr.